AHMEDABAD
: Just why did Ahmedabad expand in the periphery? A new
World Bank
report traces the history of the city's expansion to the development plan of 1965 when a 240 metres wide area on private agricultural land covering an area of 8.4 sq km was proposed in the new plan.
This was the year when the total municipal area of the city was 93 sq km. Today, the urban agglomerate area of the city, including AUDA area, is around 1,900 sq km with a green belt covering 9% of the total land cover.
"The main objective of the green belt was to restrict urban sprawl and regulate and balance open versus built development and act as a sink for urban pollution," claims the paper authored by Madhu Bharti and Shagun Mehrotra.
But this proposal met with resistance as land owners were unhappy with AMC's compensation and challenged the plan in the court.
In the 1980s and 1990s the report states, the city rapidly expanded beyond the municipal corporation limits, leading to fragmented urban expansion, particularly along the western fringes of the city.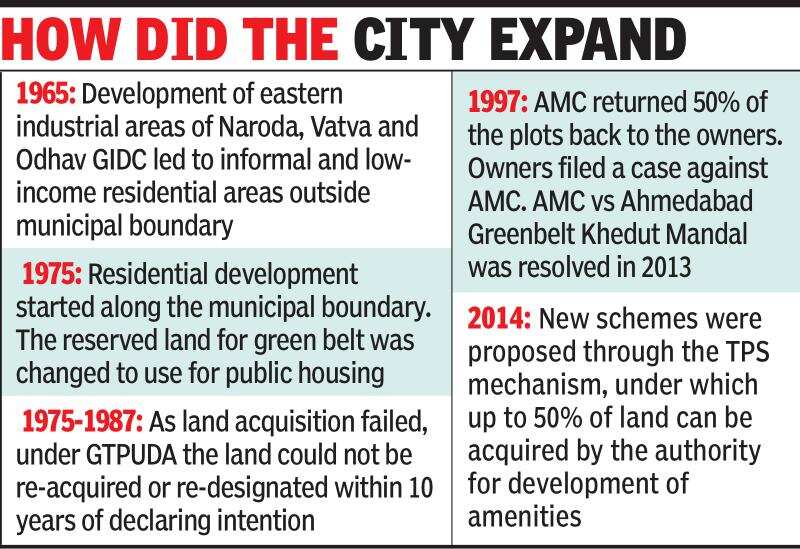 "This fragmented development outside the city limits was partly attributed to the Urban Land Ceiling Act, 1976, which led to an artificial increase in land prices within the city limits.
"Over time, many encroached on these green belt reserves to build houses," states the WB paper.
The Sardar Patel Ring Road was conceptualized in the 2001 revised development plan to facilitate integrated urban development along the metropolitan periphery of Ahmedabad.