VISAKHAPATNAM
: The Greater
Visakhapatnam Municipal Corporation
(
GVMC
) is working on a list of eligible beneficiaries to hand over nearly 24,000 houses built by Andhra Pradesh Township and Infrastructure Corporation (APTIDCO) soon.
Around 56,000 housing units were sanctioned to Vizag under the 'affordable housing in partnership category' of PMAY (Pradhan Mantri Awas Yojana). The works surrounding these housing units saw meagre progress over the last three years. Now, the government has directed officials to complete TIDCO housing allocation by December.
In all, GVMC has received around 3.4 lakh applications for the housing project. After thorough scrutiny, 2.4 lakh people have been found eligible as beneficiaries.
Nearly 24,000 TIDCO housing units, measuring 300 square feet, 365 square feet and 430 square feet, are currently under construction in various parts of the district. The 300 square feet housing units will be given to beneficiaries for just one rupee.
GVMC commissioner G Srijana recently directed officials to prepare for allocation of the 24,000 housing units. "Officials should also prepare a list of applicants found ineligible to return their demand drafts," she said.
While these 24,000 beneficiaries will get TIDCO flats, the remaining would get one-cent plots. The Visakhapatnam Metropolitan Region Development Authority (VMRDA) has developed 2,800 acres as one-cent layouts in several mandals in Visakhapatnam district.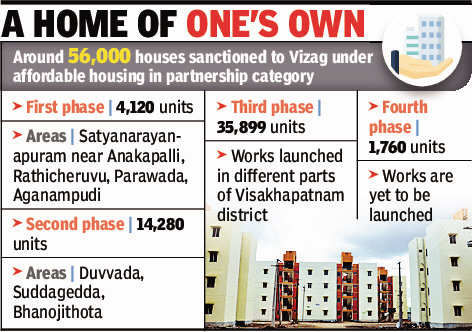 A total of 58,861 beneficiaries will be given one cent plots in Sabbavaram mandal, including Gollapalem village (15,108 plots), Nanginarapadu (11,936), Yerukunaidupalem (3,363), Pydiwada (9,953) and Gangavaram (18,501). Sites will be allocated to nearly 38,000 families in Thangudubilli, Gandigundam and Ramavaram villages in Anandapuram mandal.
About 20,187 plots will be provided to the homeless in Mudapaka mandal. Nearly 13,000 housing sites have been developed in various villages of Parawada mandal. The other layouts have come up in Gajuwaka, Anakapalli and Pedagantyada mandal.