GHAZIABAD: The state government has brought down the mandatory consent of land owners to 60% from the earlier 80%, in major changes to its land pooling policy to woo farmers to part with their plots for development. The remaining 40% land can be acquired under the Land Acquisition Act or by other means, officials said.
During development, as per the changes, 50% of the total area would go for utilities like roads and common facilities like roads and common facilities. Of the remaining 50%, half half will be returned to the land owner after five years. Till five years or the time the land is developed, whichever is later, the owner will be paid Rs 5,000 per acre per month as compensation for loss of agriculture.
"The land pooling policy, which was passed by the UP cabinet last year to give fillip to urban infrastructure and spare the state government of land acquisition hurdles, failed to fetch the desired results. So, the government has made changes to the policy, which gives more benefits to farmers," said a Ghaziabad Development Authority (GDA) official.
Earlier the consent of 80% of land owners was mandatory as per the policy, but now that has been brought down to 60%. "Apart from that, the amendments mandate that 25% of the developed land will be given back to farmers. They will also get Rs 5,000 per acre compensation for a period of five years. Other benefits offered to farmers include concessions during change of land use," said the official.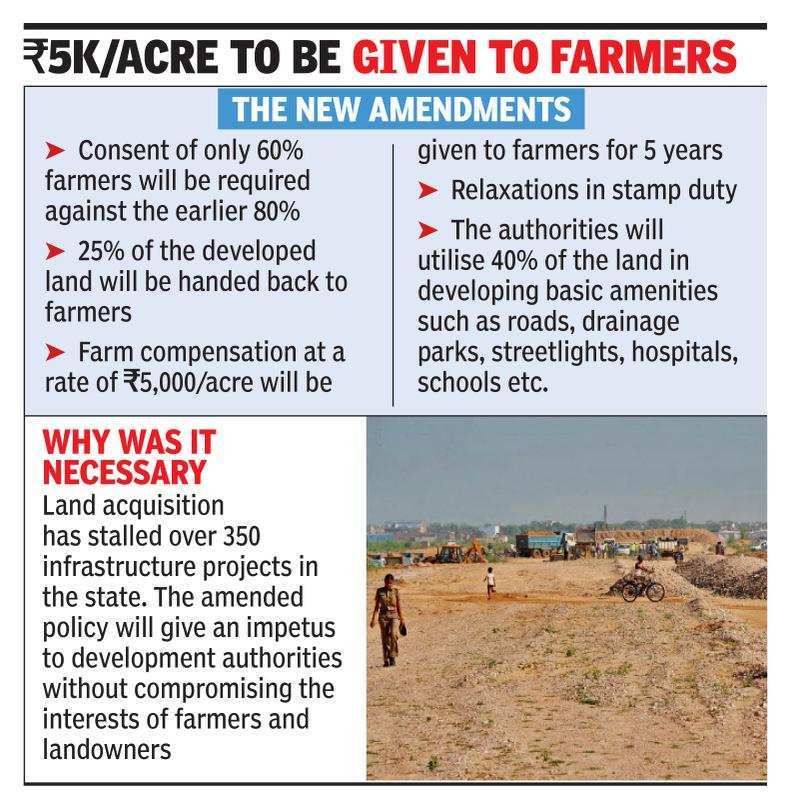 The adoption of the policy, officials said, was also necessitated after land acquisition hurdles had stalled over 350 infrastructure projects in the state. "The land pooling policy gives an impetus to developmental projects without in any way compromising the interests of farmers and land owners," said the GDA official.