Real estate project registrations across the state have picked up pace, thanks to the strong resurgence in demand and fast depleting unsold inventory. Registrations had taken a beating last fiscal due to the Covid-19 induced disruption.
As many as 743 real estate projects — residential, commercial, mixed development and plotted schemes — have been registered with the Gujarat Real Estate Regulatory Authority (GujRERA) in 2021-22 as of September 9. This translates to 55% of last fiscal's total 1,345 project registrations, and that too in just the first five months of the current fiscal.
The total investment in these projects is estimated to be Rs 19,639 crore, which is about 60% of the total investment proposed through the registered projects last fiscal, shows data available with the state real estate regulatory authority.
"Increased number of real estate projects have been registered with the state regulatory authority, especially in the past three months. This is because the demand for residential real estate has picked up pace, with people upgrading to bigger dwellings. The unsold inventory has also come down to its lowest levels in the wake of fewer launches over the past two years due to several factors, including the pandemic," said Tejas Joshi, president, CREDAI Ahmedabad-GIHED, city chapter of the Confederation of Real Estate Developers' Associations of India (CREDAI).
While the commercial segment remains muted, the residential segment has seen a strong demand across affordable, premium, luxury and plotting categories. This could be seen from the fact that 310 (42%) of the total projects registered are purely residential, while 275 (37%) are mixed-use projects.
It may be mentioned that realty project registrations had declined by 23% to 1,345 in 2020-21 from 1,745 projects in 2019-20 due to the pandemic-induced slowdown.
Pressure rises on margins as production costs escalate
Real estate developers have seen their production cost escalating 10-12% with the rise in prices of cement, steel, sanitaryware, bricks and other construction materials.
The increase in diesel prices has further raised the material transportation costs. Although real estate prices have gone up, developers have not been able to fully pass on the higher production cost to the consumers.
"When many projects are hitting the market, developers cannot raise their prices," said a city-based realtor. As a result, realtors' margins are getting squeezed.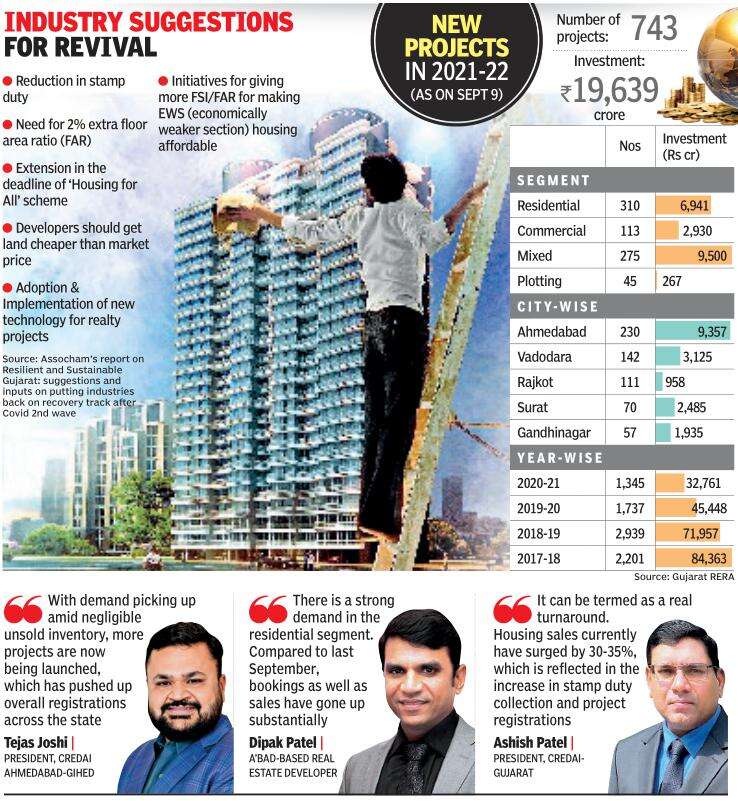 However, developers feel there can be a price hike. Steps such as a reduction in stamp duty and floor space index (FSI) fees can provide relief to both developers and consumers, said industry players.
New launches to gain momentum
With buoyant demand, along with the unsold inventory dwindling to its lowest level, realtors see more housing schemes coming to the market during the upcoming festive season.
"Ongoing projects which are slated to be completed in the next one or two years have seen bookings up to 60-70%. With demand going up, several new projects are going to be launched during the festive season of Navratri, Dussehra and Diwali this year," added Joshi, who himself plans to launch two projects in the premium and luxury segment in the coming months.
According to real estate consultant Knight Frank India, the unsold inventory (housing) in Ahmedabad stood at 12,151 units in January-June 2021 as against 40,035 units in January-June 2016. The projects which were registered last year, but could not be launched are also being rolled out now, say market players.
"Given the improved sentiment and positivity in the market, developers also think that it is a time to roll out projects according to the customers' current needs," Joshi said.
Sales up 30-35%
Traditionally, residential property bookings remain negligible from April to August. "This year, however, developers are witnessing an increase in site visits and bookings even in this lull period," said Dipak Patel, a city-based real estate developer.
"Riding on the resurgent demand, sales and bookings have gone up by at least 30-35% compared to last September. Sales have bounced back to the levels seen before the outbreak of the pandemic," added Ashish Patel, president, CREDAI-Gujarat.
The uptick in sales could be seen from the fact that the state's revenue from stamp duty and property registrations jumped 148% at Rs 3,061 crore during April-July 2021. The revenue had stood at Rs 1,234 crore in the same period last year. In July alone, this revenue surged by 65% to Rs 968 crore.
Realty consultant Knight Frank India's latest report shows that 1,163 residential units were sold in Ahmedabad during April-June 2021, a growth of 362% over the same period last year. However, the sales were down when compared with the preceding quarter of January-March due to the second wave of the pandemic affecting sales on a quarter-on-quarter basis.
NRI investments flowing in: NRGs from the US, the UK and Canada are buying housing properties in their hometowns in the state. Till now, commercial and plotting schemes used to grab a larger share of the NRI investments. Now, they are also purchasing housing apartments.