GREATER NOIDA
: Gearing up for 24/7 water supply, the
Greater Noida Authority
has decided to install
smart water meters
in households and other establishments across the city. More than 38,000 units will be covered under the project, of which 90% will be domestic connections, officials said.
To meet the needs of 10 lakh residents, the Authority has to augment the daily water supply to 210 million litres within a year. Water is supplied twice a day in Greater Noida, at present — three hours in the morning and three hours in the evening. Extracted from the ground, the treated water is stored in the reservoirs before being transferred to overhead water tanks in various sectors.
For a long period, residents groups had been petitioning the Authority to press water charges as per usage and consumption. Currently, the authority levies fixed annual charges as per the size of the plots. The charges vary between Rs 1,284 and Rs 14,892 for plots measuring between 60 sqm and 1,100 sqm, respectively.
GNIDA's additional CEO Deep Chandra said, "The process to select an agency interested in installing smart water meters was initiated on November 11. By December 15, we are hoping to select the agency."
Officials confirmed that the meters will be also placed in the 84 apartment complexes and 63 group housing projects developed by the Authority in the city. However, each apartment complex will be treated as a single unit and a bulk metre connection will be provided to them.
The Authority will also cover some industrial, IT, commercial and institutional establishments under the project. However, initially only a semi-bulk metre connection will be provided for an entire block instead of individual connection, officials said.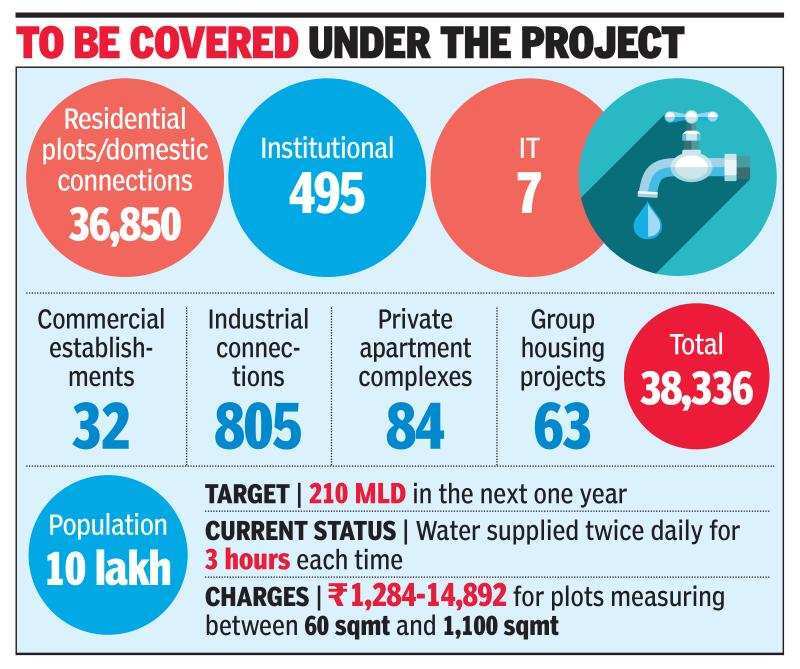 The Ganga jal supply in Greater Noida will begin in April next year and post that smart meters will also be installed. Officials said that the cost estimates will be finalised once the agency selected to execute the project provides the quotation for providing meters to a domestic, institutional, IT, industrial or apartment user.
However, the president of Federation of Residents Welfare Associations of Greater Noida, Devendra Tiger, said, "Greater Noida was supposed to be the smartest city in the entire NCR. But we are nowhere close to it. Ganga jal was to be supplied to households in 2013-14. Every few months, officials of the Authority issue fresh deadlines for the Ganja jal project."