NOIDA: Two years after nine persons were killed in a twin building collapse in
Shahberi
, not much has changed on the ground. No action has been taken against the builders who had constructed and sold illegal flats there and buyers still wait for their grievances to be addressed.
According to the Greater Noida Authority's estimates, 1,453 illegal buildings still stand in Shahberi. While sealing and unsealing happen in the name of action, registries for new flats are still going on in the area — the last being just two days ago. There have been over 20 complaints, but not a single FIR has been registered yet.
Buyers alleged a nexus between the government and builders. "We have been fighting this huge government-builder nexus for more than two years now. There has been no action against the builders, all of whom are out on bail. No authority official has been pulled up yet. Without their knowledge, it is impossible for so many illegal buildings to come up here. There is no clarity in sight. We can't live here for long as these homes are unsafe, but we can't become homeless too," said Neha Singh, a resident.
Most of the residents here are from the lower middle strata of the society and have invested their life's savings in buying flats. For them, leaving the houses would be easier said than done, as and when the Authority demolishes all the illegal buildings.
The buyers now want the area to be regularised, the buildings strengthened and strict action against the builders and officials.
"We can't trust the officials here as they have done nothing in the matter so far. There should be an inquiry by an independent agency like the CBI or the Enforcement Directorate. Until then, we need sewer and drainage connections here. We have been living here in a miserable condition. Waterlogging during monsoon raises the fear of another building collapse. The authorities didn't raise a finger when these illegal buildings were constructed, but for providing civic infrastructure, they say the area is unregulated," said Abhinav Khare, another Shahberi buyer.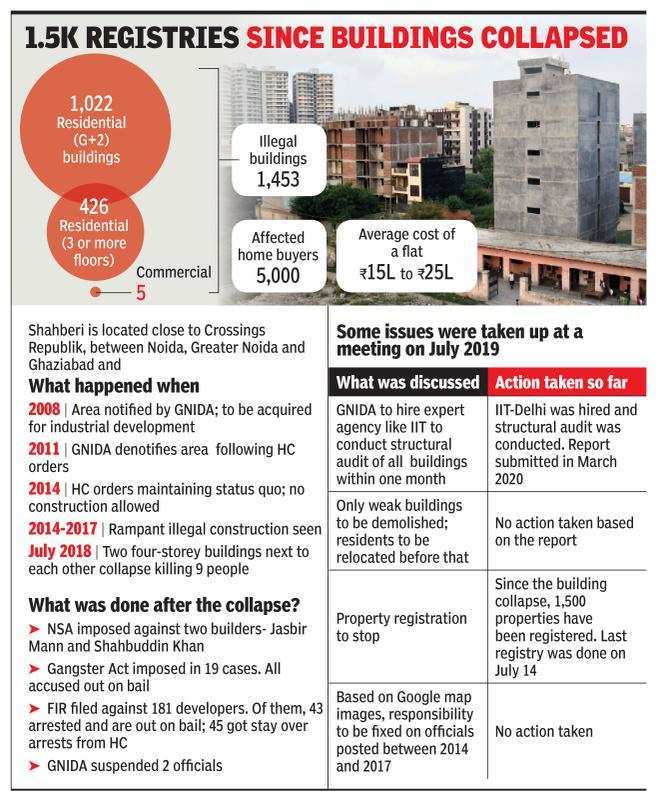 Residents alleged that the administration had not worked on a single promise so far. "We were initially promised that only vacant buildings would be sealed. But 27 buildings have been sealed so far, many of which had people living in them. The officials didn't show us any sealing order. Besides, what is their plan after sealing these buildings? We have no information," said Mukul Tyagi, a resident.
In July 2018, two illegal buildings had collapsed in Shahberi, killing nine persons in total. The collapse had lifted the veil off unauthorised construction and rampant sale of illegal properties in the area. Shahberi was denotified in 2011 and three years later, the high court had passed an order to maintain status quo. This means that any construction in the area is illegal and none of the buildings have their layout maps approved by any authority.
So far, the district administration has imposed the National Security Act against two builders and the Gangster Act in 19 cases. However, most of the builders are released on bail. District magistrate Suhas LY said he would investigate the allegations of fresh registries in the area, pointing out that the Covid-19 outbreak has kept officials busy.
Narendra Bhooshan, the CEO of Greater Noida Authority, said a report based on an IIT audit had been sent to the state government, UP-Rera, and other senior officials.