PUNE: Narrow access roads in Town Planning (TP) schemes and plotted layouts of bungalow colonies and housing societies were not part of the civic administration's original proposal for widening of the lanes in the city to nine metres.
These were included at the insistence of the standing committee through a short notice amendment to the official proposal.
Most objections to the PMC's nine-metre road widening plan have come from bungalow colonies with approved plotted layouts and approved TP scheme lanes.
TOI investigated what happened at the standing committee meeting on June 9, 2020, and has a copy of the docket tabled by the civic administration, a copy of the amendment, and the minutes of the meeting.
"In addition to the roads proposed by the administration, we propose that all those public roads in Pune which are part of the plotted layouts, approved Gunthewari schemes and TP schemes and are six metres wide be included for widening to nine metres, and the process for calling suggestions and objections be carried out," says the amendment initiated in the meeting by Bharatiya Janata Party (BJP) corporators.
Nationalist Congress Party corporator Mahendra Pathare told TOI that he strongly opposed the amendment as soon as it was tabled
"I argued that if widening the TP scheme roads was essential then it should have been part of the administration's proposal, post assessment, and study of these roads," he said.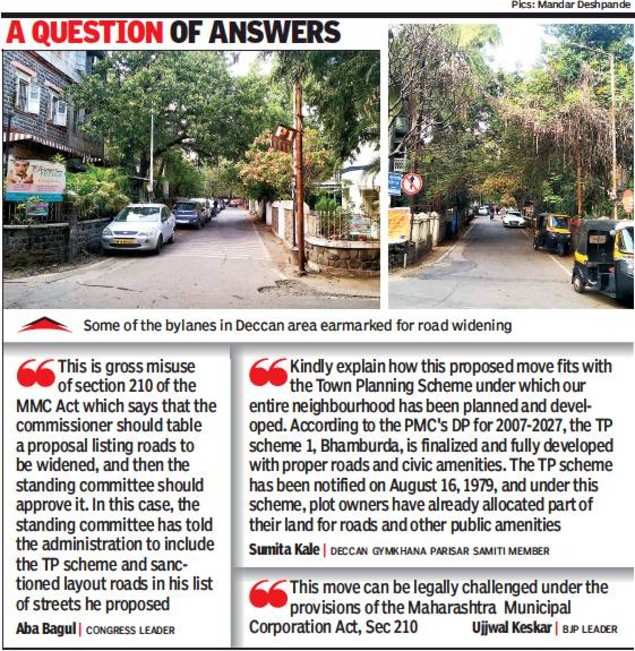 Standing committee chairman Hemant Rasane said his party had proposed the amendment and he approved it in the capacity of the committee head with ten votes in favour and six against it.
"The opposition members had accused us of proposing the widening of select roads to favour some developers. Hence, we initiated this amendment to include all the roads so that the widening policy becomes a uniform policy for Pune. The amendment was aimed at ushering in more transparency," Rasane said.
"If it is found that there are technical issues which require non-inclusion of certain streets and if the local people are of that view, the administration will give them a hearing and if their arguments have any merit we will not force the widening," he added.