PUNE: More than 70,000 tenants who registered their leave and licence documents with the property registration department were exempt from visiting police stations after the verification process went online in September 2019.
According to official data nearly 73,463 documents, registered in Pune city in between August and November, were verified by the police online. This step is a part of the integration of services offered by the property registration department and the Pune city police commissionerate.
State Inspector General of Registration and Stamps Omprakash Deshmukh said the Pune commissionerate has access to their database for this purpose. "The 'resident-centric' process helps citizens, government and the police machinery," he said.
There was a dip in the registrations for a large part of the year because of the pandemic. "This picked up in the last four-five months of the year as the city gradually reopened," Deshmukh said.
As a part of this resident-centric initiative, "Integration of ISARITA and Tenant Information System", the new software gives all 30 police stations in the jurisdiction of the Pune commissionerate "instant access to tenants' data for police verification and security checks".
Earlier, the owner of the house was required to submit their tenant's details online on the Pune police portal or at the nearest police station. However, officials said many preferred to simply not register to avoid visiting police stations. "The new facility is a perfect example o how departments can work together to ensure due checks and the safety of the citizens," Mitesh Ghatte, deputy police commissioner (special branch), who is in charge of this process, said. "This is a unique and effective initiative that would benefit a large number of residents. Tenants no longer need to visit a police station for verification," Ghatte added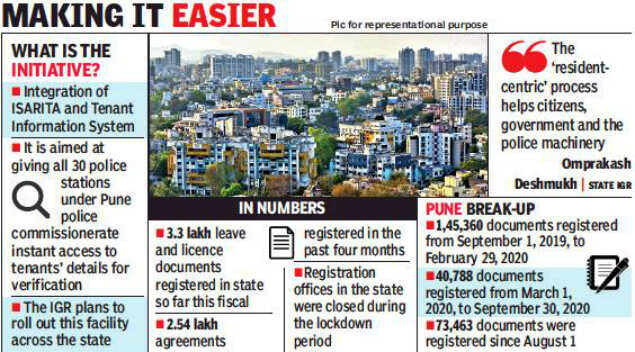 IGR Deshmukh said this facility will be rolled in police commissionerates across the state. Police added that this was a perfect use of advanced technology. "This is a simple way to ensure that citizens give all information to the government," DCP Ghatte said.
One addition to the information that needs to be provided is residential addresses in the past five years and a permanent address.
Tenants said this system has made things more convenient for them. "The registration department adds that it would ensure that all agreements are registered with the government," a tenant said.