GHAZIABAD
: The city has seen nearly a four-fold rise in 'unsafe' buildings in the past two years — from 26 in 2018 to 102 this year, as per the latest survey conducted by the Ghaziabad Municipal Corporation s(GMC). However, residents are yet to vacate many of these buildings. An estimated 500 people are currently staying at these unsafe places, officials said.
The Ghaziabad municipality is, in fact, divided into five zones — City, Kavi Nagar, Vijay Nagar, Mohan Nagar and Vasundhara. The city zone has the maximum number of unsafe buildings at 38, followed by Mohan Nagar at 31, the survey has revealed.
One such unsafe building is Alaknanda Tower in Vaishali, which was constructed in 1989 by the Ghaziabad Development Authority (GDA). "We are living in a state of constant fear. The basement is flooded with water due to monsoon showers and plasters are peeling off almost daily," said Amit Kumar, a resident.
Close to Alaknanda Tower is Kaveri Tower, the condition of which is also dangerous. "The plasters of this multi-storied building are peeling off, its basement remains waterlogged throughout the year and the foundation has become weak. Immediate intervention is needed as several lives are at stake," said Kamlesh Sharma, a resident.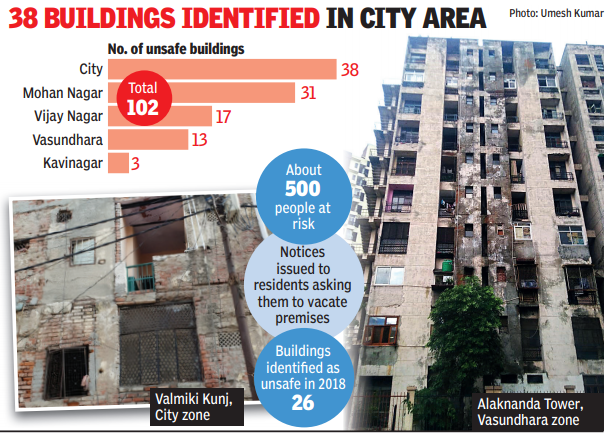 Tulsi Niketan in Sahibabad has also figured in the GMC's unsafe list, where in October 2018, five members of a family had a narrow escape when the ceiling of their third-floor flat collapsed. The society was developed by GDA three decades ago but lack of maintenance led to the dilapidated condition of the buildings there. "The buildings in Tulsi Niketan are unsafe for living, but we have no option but to stay on. Authorities concerned have so far not made any serious attempts to restore them," said Amod Singh, a resident. Authorities, on the other hand, blame residents.
"In the case of Alaknanda Tower, it is the responsibility of the RWA to look after its maintenance. Last year, we got the safety audit of the building done by Jamia Millia Islamia, which suggested retro-fitting of the building. But that needs to be done by the RWA only," said an official from GDA.
"In the case of Tulsi Niketan, we had offered to build new flats, but the proposal was rejected by residents and the RWA, and in both the cases, it would be wrong to say that we did not attempt to sort out the issues," he added.
GMC chief engineer Moinuddin said, "Despite serving notices, many have refused to vacate the buildings. This is a Catch-22 situation for us because we do not want to use force to get the buildings vacated, but then who would be responsible in case of any accident."