AHMEDABAD
: The
Ahmedabad Municipal Corporation
(AMC) has made it mandatory for all housing societies, apartment complexes and colonies to appoint Covid coordinators.
The decision was taken at a meeting held on Monday. Rajiv Gupta, additional chief secretary, forests and environment, who is in charge of Covid management in Ahmedabad said, "After getting positive results through the last intervention of Covid coordinators for offices, institutions, commercial and industrial units that have 30 or more workers, the AMC has decided to have coordinators for all residential societies."
Under Rule 11 of the regulations for prevention and containment of Covid-19 framed by the Gujarat government under the Epidemic Diseases Act, 1897, the AMC has made it mandatory for the secretary, chairman, organizer, manager or owner of every residential society to appoint someone Covid coordinator and to inform the assistant municipal commissioner concerned.
The AMC stated that if visitors to the society have Covid symptoms it will be the responsibility of the Covid coordinator to inform the authorities or the nearest urban health centre for testing. They will also have to prepare a history of contacts in the last 14 days, and will have to send the report to the assistant municipal commissioner of their ward
Apart from ensuring that no home quarantined person comes out, the AMC states that in micro-containment zones, office-bearers of the society will be responsible to no one comes into contact with any person with Covid.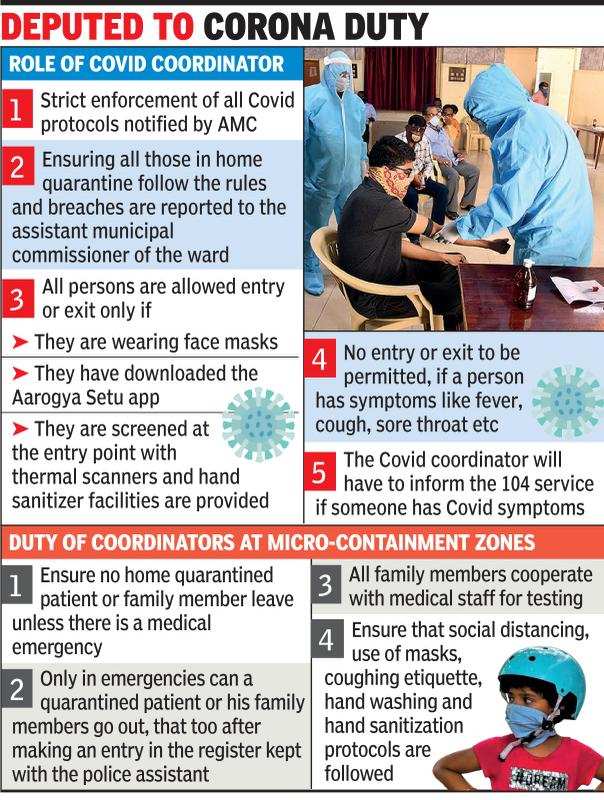 The office-bearers will have to ensure that antigen testing is done for all residents of a micro-containment zone. The AMC made it clear that for any negligence or non-compliance the chairman /secretary shall be held responsible and shall invite prosecution under Section 188 of the IPC, the Disaster Management Act 2005 and the Epidemic Diseases Act 1897.
AMC said that now, as the sero-positivity study has confirmed that immunity is not necessarily being developed in people in terms of antibodies, and as there is no vaccine available, prevention is the need of the hour. AMC has therefore decided to take these measures to enable community participation in Covid management.