NOIDA
: The Sector 51 to Knowledge Park V corridor of Aqua Line, tenders for which had been floated earlier this month for the third time, has again got a response from just two bidders, the same ones that had applied in the previous round.
The Noida Metro Rail Corporation (NMRC) will now weigh their technical capabilities and assess the viability of the bids, officials said.
The latest round of the tendering process concluded on December 18. In the second round, that ended on November 20, RG Construction and Sam India Builtwell had shown interest in the project.
The detailed project report (DPR) of the extension has been long approved by the state cabinet. The project, however, has failed to generate interest among construction companies. NMRC wanted a minimum of three bidders to be in the fray. That's why the first two rounds failed. But with the third round being no different, it seems the NMRC will have to find a way forward for a project that is important for the newer residential areas of Noida Extension and the parts of Greater Noida that the current Aqua Line route does not service with the bidders in the fray.
"Now, we will analyse and check if the two bids (in the third round) are technically viable," MD, NMRC, Ritu Maheshwari, said. Manoj Vajpayee, GM (technical), NMRC, said: "We re-floated the tenders because we were not getting enough response. The firms that had applied earlier have re-applied."
Once ready, the 15km elevated corridor will link Greater Noida sectors with Delhi Metro's Blue Line through Sector 51. Of the total nine stations on the route, five will be built in the first phase by 2022. The second phase will have four stations.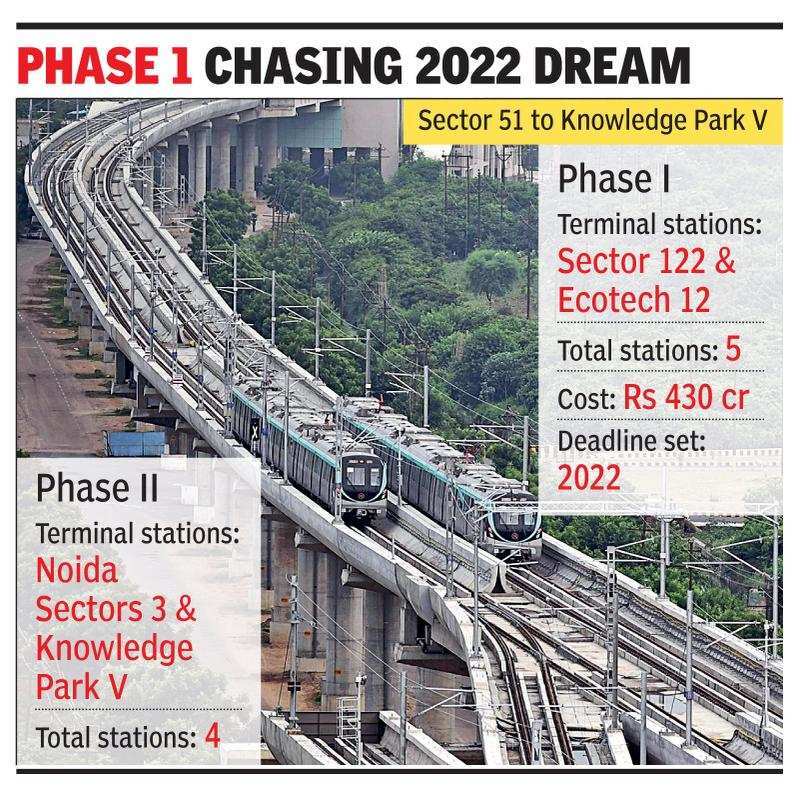 In June this year, three companies had responded during the first round of the tendering process. The firms were Sam India Builtwell Limited, NCC Limited and Shrisay Infotech. Shrisay was rejected. For the second round, RG Constructions and Sam India had shown interest.
The corridor will be built in two phases. The first one will be 9.6 km long from Sector 51 to Ecotech 2. It will have five stations — Sector 122, 123, Greater Noida 2, 4 and Ecotech 12. The estimated cost is Rs 430 crore and it is likely to be ready by 2022. The second phase will have four stations.
Another key Aqua Line route, from Sector 142 to Botanical Garden, has been finalised by NMRC and is being vetted by the metro board.