NOIDA: In dire need of funds, Noida Metro Rail Corporation has decided to monetise one of its prime assets in order to raise capital required for future expansion. The joint venture company formed to operate the Aqua Line (Noida–Greater Noida metro) has asked the Noida Authority to auction a commercial plot in Sector 94 and is hopeful of generating more than Rs 700 crore through the transaction.
Situated close to the Okhla Bird Sanctuary metro station in Sector 94, the commercial plot has remained on the block for 18 months. However, not many companies have shown interest in inking deals due to the terms and conditions and the lease-deed model.
NMRC has now decided to auction the entire land through an online bidding process. Land measuring 10.9 acres, NMRC will develop a metro station next to the land in the future (as Sector 94 metro station) as a part of the second arm of the Aqua Line metro network to enable direct connectivity to the Botanical Garden metro station, officials said.
Noida Metro, officials said, has sought the help of the Authority to initiate the auction process. "The permission to auction the land will be taken from the board at its meeting slated for Thursday. The Noida Authority will auction the NMRC's land and pass on the benefits to the corporation accordingly," Noida Authority CEO and NMRC managing director, Ritu Maheshwari, said.
Officials involved with the process revealed that the land will be auctioned through the Noida Authority since the same belongs to it. "A memorandum of understanding will be signed between NMRC and Noida Authority before the auctioning process is initiated," he added.
However, the prevailing rates of commercial plots fixed by the Noida Authority could pose a hurdle during the bidding. The Authority commands a premium of Rs 1.59 lakh for a sqm in Sector 94. The 44,151 sqm wide plot will have the minimum reserve value of Rs 702 crore.
Officials said that since the commercial land comes with a FAR (floor area ratio) of 4.5, construction companies or consortiums will be interested in taking up the land. With a FAR of 4.5, about 2 lakh sqm of commercial space could be exploited through the transaction.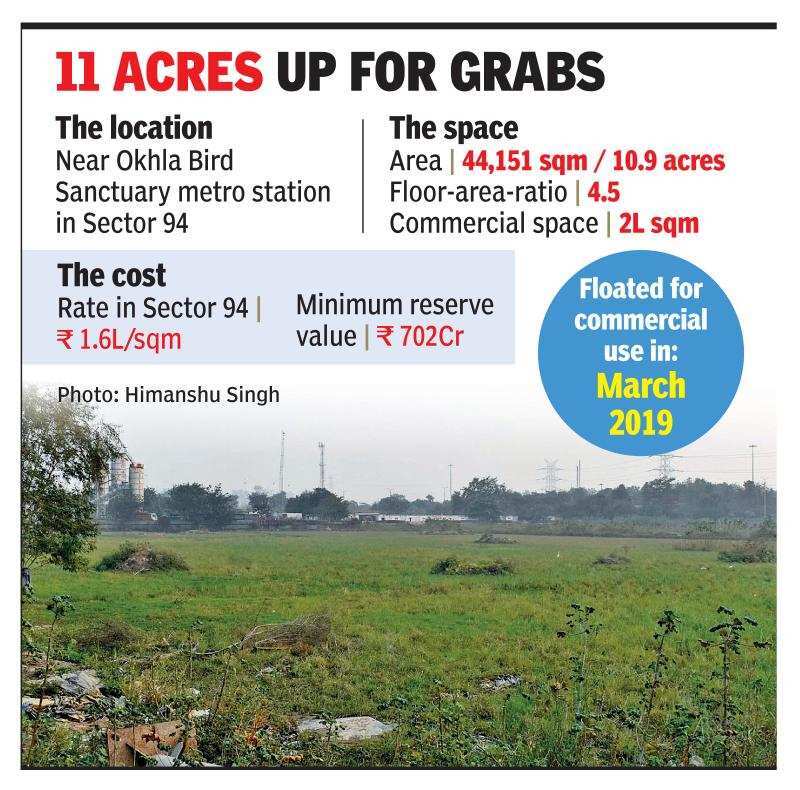 Experts are, however, apprehensive about the timing. "For the next two to three years, demand in the commercial real estate segment will be subdued. A lot of companies will continue work from home arrangement and a significant number of corporate employees will not be back to their offices. In such a scenario, demand for office space will shrink," said Pankaj Kapoor of Liases Foras, a real estate analytics company.
Authority officials said that the land could be developed anyhow and besides office, retail, mall, recreational and hospitality services could be offered.
Reeling under poor ridership, NMRC was saddled with additional burden owing to the pandemic and has been struggling to raise funds.