MUMBAI: At a time, when the real estate market is in the throes of the pandemic,
Cidco
will offer what might be a bonanza for those in search of bungalow plots, row houses and for large developers over the next one year. The planning agency plans to auction 1,000 plots over the next 12 months.
Cidco has earned about Rs 1,200 crore from auctioning plots in over two months. In February it managed to get a record Rs 2.63 lakh per square meter bid for a plot in Sanpada. Auctioning of plots will help Cidco generate sizable funds and support its ambitious projects. Cidco is aiming to garner over Rs 500 crore a month from these auctions.
In January, Cidco auctioned 27 bungalow plots and a 66 sqmt plot in Ghansoli fetched a whopping Rs 1.30 lakh per sqmt, while the base price for plots in Ghansoli was between Rs 30,800 per sqm and Rs 35,813 per sqmt. Similarly, a plot measuring about 207 sqm in New Panvel (E) was sold at Rs 1.09 lakh per sqmt, while the base price for the New Panvel plots was Rs 39,200 per sqm.
Cidco will now roll out a range of land parcels in Navi Mumbai for auction over next 12 months. Around 1,000 plots may be offered over a period and plot sizes may range from 40 sqm to 4000 sqm. Of these, 300 to 400 plots are said to be bungalow plots, which have areas ranging from 40 to 400 sqmt. According to Cidco officials, bigger plots range from 1,000 sqmt to about a hectare and are sought by builders and developers, while bungalow plots have always attracted a premium from home buyers.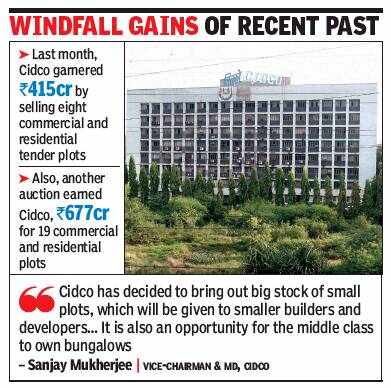 "There are many things attractive in bidding for Cidco plots. There is a shortage of land parcels with clear titles in MMR, but land parcels auctioned by Cidco have clear titles, as the land has been acquired by Cidco. Besides, several connectivity projects in Navi Mumbai are in the offing," said a Cidco official.
Cidco vice-chairman and managing director Sanjay Mukherjee said "Cidco has decided to bring out big stock of small plots, which will be given to smaller builders and developers so that they can enter the market in a stressed situation. It is also an opportunity for the middle class to own bungalows. Cidco is committed to provide a level playing field."
Manohar Shroff, vice-president of MCHI-CREDAI Navi Mumbai unit, said "The response to the auctions has been good, because Cidco has increased the ancillary FSI. Builders are quoting high prices for these plots and offering bigger houses. They will make good money. It is a win-win for CIDCO and for builders, besides consumers too will be benefitted.