MUMBAI
: Dwelling units in Mumbai of less than 500 sq feet will soon attract higher
property tax
than in the previous year.
"It was a mistake," said municipal commissioner Iqbal Chahal about the previous year's assessment. "The state legislature while amending the BMC Act had allowed the waiver of only general tax. Instead of waiving only the general tax, we waived seven other components as well. This year we realised our mistake and have informed the government about it. We cannot repeat the same mistake every year and so this year's bill will reflect the charges for the other seven components," said Chahal.
There are 1.85 lakh dwelling units in the city that are less than 500 sq feet in size. The BMC annually earns Rs 360 crore from these units as property tax, which constitutes eight components including general tax. Waiver of the other seven components has cost the BMC Rs 285 crore. It works out to roughly Rs 150 per unit.
Chahal said BMC is considering recovery of the excess amount waived off last year. "We are yet to take a decision, and if we do recover the dues it would be at a later date," he said.
While the BMC has claimed it is an oversight, civic observers said it was too much of a coincidence considering that last year there were the general elections as well as the state assembly elections. The Shiv Sena had made the waiver a prestige issue.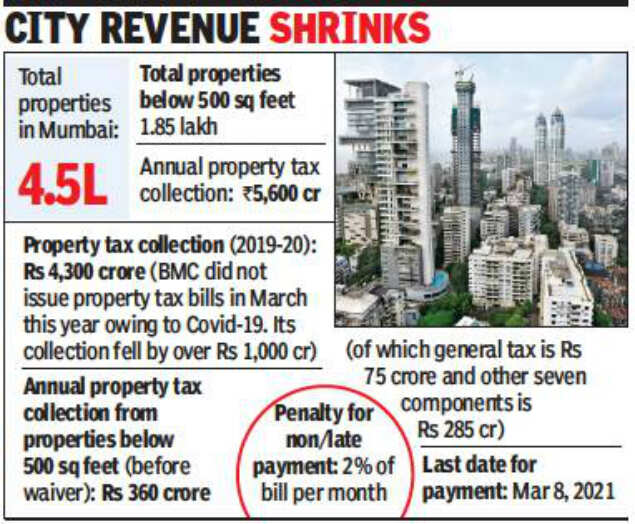 Samajwadi Party corporator and MLA Rais Shaikh said the decision was intentional. "It is a fraud on Mumbaikars. If property tax for hoteliers and industry can be waived without approaching government, why not for ordinary citizens? It was a promise made by the chief minister and he must fulfil it, otherwise it will adversely impact the Maha Vikas Aghadi in the BMC elections," he said.
BJP leader Prabhakar Shinde said it was a repeat of the promised electricity bill sops. "Initially the government promised to waive excess electricity bills but then refused to do it. The same story is being repeated in the BMC. First they give an assurance and then refuse to fulfill it," said Shinde.