MUMBAI
: An application by the members of the controversial
Adarsh housing society
in
Colaba
seeking post facto
Coastal Regulation Zone
(
CRZ
) clearance and regularisation of the construction has been rejected.
The Maharashtra Coastal Zone Management Authority (MCZMA), in its decision on December 21, observed that "the CRZ notification of March 6, 2018, for post facto clearance cannot be applied to the proposal of Adarsh CHS Ltd as it is not otherwise permissible".
The authority noted that the Bombay high court had dealt with the matter in detail, and in its April 2016 order, and that the court had observed that the petitioners (Adarsh CHS) had consumed 2.932 floor space index (FSI) against the permissible 1.33.
It further observed that the entire 31-storey construction carried out by the petitioners was illegal and in defiance of the Environment Protection Act and the Maharashtra Regional Town Planning Act.
The MCZMA, while noting the sequence of events in its order, pointed out that in the special leave petition filed in 2016, the Supreme Court had not expressly stayed the HC order. In conclusion, the authority said, "The HC order is still in force and the MCZMA is duty-bound to abide by the findings and observations dated April 29, 2016, passed by the high court in the Adarsh CHS matter."
In November 2019, the members had approached the MCZMA for post-facto CRZ clearance. The MCZMA at the time had noted that the matter involved two plots and the property card did not bear the name of Adarsh CHS Ltd as a single owner. Amalgamation of the two plots was not done and hence the FSI of the BEST plot could not have been utilised on the Adarsh plot.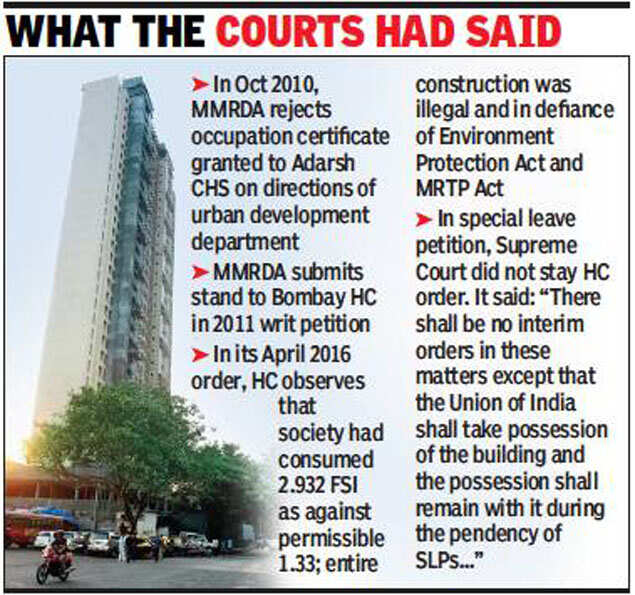 MCZMA forwarded the matter to the Union ministry of environment and forests (Mo-EF), which then directed the authority to make a specific recommendation in consonance with the March 2018 CRZ notification. The notification states, "All activities which are otherwise permissible under the provisions of this notification but have commenced construction without prior clearance would be considered for regularisation only in such cases wherein the project applied for regularisation in the specified time and the project which are in violation of CRZ norms would not be regularised."
The authority has decided that the proposal can't be recommended to the MoEF for regularisation as per the 2018 notification and this would be communicated to the ministry.