HAVERI
: Over 13,500 houses were damaged in the devastation wrought by the flood the state witnessed in August and September.
In accordance with the rules of the National Disaster Management Authority (NDMA), the central government has disbursed Rs 35.5 crore in compensation to those who have borne the brunt of the disaster.
Incessant rain left a trail of destruction in 22 districts across the state, with more than 3,500 houses being damaged in Belagavi alone – the highest in Karnataka. But all the districts in North Karnataka, with rain continuing even in the early weeks of October, have suffered from the onslaught of heavy showers.
Officials in these districts have assessed the extent of the damage and are in the process of drafting reports to be submitted to the government.
Victims, the houses of whom have suffered damage, have been divided into three categories: Completely damaged (A), extensively damaged (B) and partially damaged (C). Compensation will be directly credited to the Aadhaar-linked bank accounts of the victims in instalments by the Rajiv Gandhi Housing Corporation Ltd.
While 903 houses across Karnataka have been completely damaged, 2,350 houses suffered extensive damage while 10,300 have sustained partial damage in the rain that lashed the state in August and September.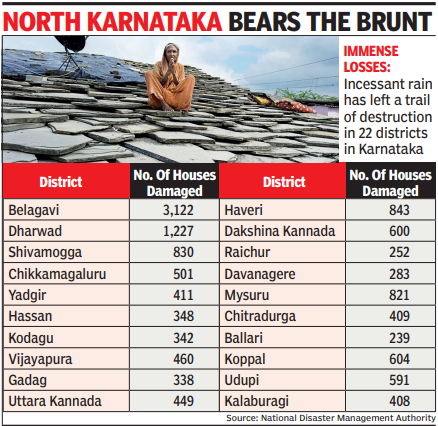 Haveri additional deputy commissioner S Yogishwar said that, five houses in the district had been completely destroyed, while 311 were heavily damaged and 484 had suffered partial damage.
"We are verifying the applications submitted by 534 victims, while those submitted by 935 people have been rejected since they are not eligible to receive compensation from the government," said Yogishwar, adding that the district administration had received Rs 2.9 crore from the government to undertake rehabilitation measures.
Haveri DC Sanjay Shettanavar said that the government had set Rs 5 lakh as the compensation to be paid to those who had lost their houses, while Rs 3 lakh to those the houses of whom had sustained extensive damage and Rs 50,000 to those classified in the 'C' category.