KOLKATA
: The pandemic has triggered an exodus from
New Town
, the fledgling township to Kolkata's east, as young professionals, expats and students have returned home, leaving behind vacant apartments and horrified landlords.
Several sprawling complexes — which were largely occupied by people from other states working in the IT companies in Sector V and New Town — lie half-deserted as tenants have returned to their hometowns, with many of them either laid off or instructed to work from home for the rest of this year and the beginning of 2021. Even professional institutes have shifted to online classes, making it unnecessary for students to stay in New Town.
While there is no survey or data available on the extent of the impact of the pandemic on real estate yet, conversations with resident welfare associations do not paint a very encouraging picture.
Shukhobrishti in Action Area III, with over 1,500 ready apartments, has always been a preferred choice for those wanting to rent an apartment in New Town, due to availability and affordability. It also spawned an ecosystem of its own, with bus and toto routes connecting the township with several IT clusters in New Town and Sector V.
"Of all the apartments in the township on rent to young professionals from the IT sector and students, almost 50% are empty, as many of them have left for their hometowns in Odisha, Bihar, Jharkhand and the northeast," said Mainak Kanrar, joint secretary of the association. "Many students who usually rent apartments in a group, have also left." The scene is similar at other housing complexes like NBCC Vibgyor, DLF Heights, Rameshwara Waterview, where several tenants have left.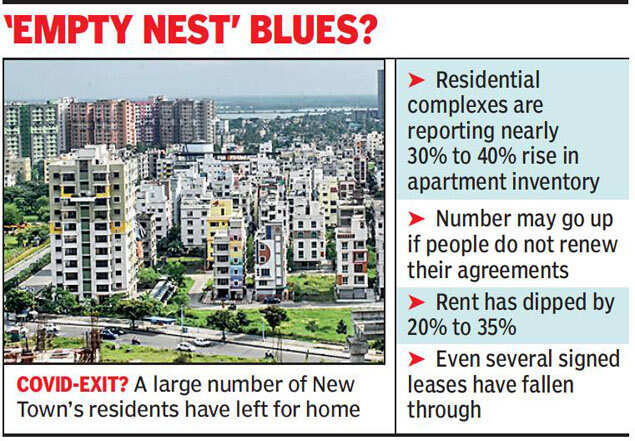 Over the last few years, New Town has emerged as a favoured destination for young professionals and students who work in IT companies in the township or study in one of the several professional institutes. Decent infrastructure, sprawling malls, an under-construction Metro network and green neighbourhoods have also att-racted several families.
The current situation of lesser demand — and the consequent sudden supply surge — has driven down rental costs across the city and forced landlords to offer generous concessions, such as rent reduction and sharing of maintenance costs. Iman Gazi, a property broker in New Town-Rajarhat, said the inventory of apartments would most likely increase in the next few months as several tenants, struggling financially, have decided not to renew their rent agreements.
"Earlier, the rent for a 2-BHK apartment in the heart of the township was anything between Rs 14,000 and Rs 16,000. Today, the landlords are willing to accept 20% to 25% lower rent, but are finding no takers," said Gazi.
This exodus has also started showing its impact on the local economy. Food vendors outside IT offices and residential complexes mostly sit idle and totos and buses on these routes don't have enough passengers. Local bars, retail stores and even malls have reported depressing sales.
"It has also dealt a huge blow to the local economy, with so many people leaving. Many people who worked as domestic helps, other service providers, local eateries, malls and public transport are bound to feel the impact," said Samir Gupta, joint convener of the New Town Residents' Welfare Forum.