HYDERABAD: The recent rains have caused havoc across the city and surrounding areas, but some people are trying to salvage at least something from the tragedy. This, courtesy in-house rain water harvesting pits – a mandatory feature ignored by many while building homes.
Residents of these properties said that the water stored during the rains is enough to help them sail through the next summer.
"Our housing society consists of 40 flats and the roof top has the capacity to divert more than 14 lakh litres of water. During this week, over one lakh litre of water has been saved. The water has already been diverted to the sump and rain water harvesting pits. This summer we will not need to procure even one tanker," said G Aditya member from SLV Pride, Ameenpur where residents usually need to buy 30 tankers per month, during summer, at the cost of Rs 25,000.
The cost of constructing the pit, Aditya said, was Rs 80,000. Incidentally, while this building managed to use the rain water to their advantage, many homes in the same locality saw the recent rain water gush into their cellars and leave vehicles damaged.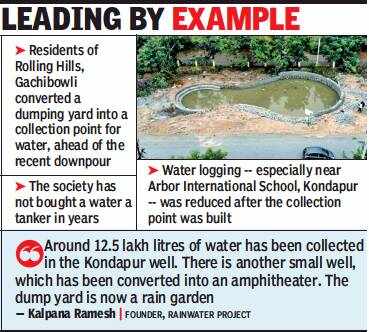 In Financial District, residents of My Home Vihanga managed to conserve water. "Three months ago we decided to save more water than previous years. We built an additional pit near a bore. Now we are certain that dependency on tankers in coming months and summer will drop drastically, because of this," said Praveen Rao, secretary of the community Serene County, Gachibowli is also one of the housing societies which ensures rain water is not wasted.
"Our society was lauded by burecarats for rain water harvesting and usage of surplus rain water. I request all the housing socities to invest in recycling and water conservation," said Rama Raju president of the society.