GURUGRAM
: The
Haryana
government has notified the expansion of the
Municipal Corporation of Gurugram
's (
MCG
) limits by bringing 16 more villages under the civic body. The proposal for the expansion had been approved in a meeting chaired by the chief minister in
Chandigarh
earlier this month.
After the government notified the order on Monday, MCG commissioner Vinay Pratap Singh wrote to all the tehsildars and naib tehsildars to sanction mutations in the revenue records in favour of the civic body. Now that the villages have been taken over by the corporation, all assets and liabilities of the panchayats will be transferred to the corporation.
The move is likely to boost the civic body's coffers as these villages have fixed deposits of more than Rs 180 crore, which would now be transferred to the MCG. Moreover, the corporation hopes to earn substantial revenue from the villages. Past records show that the 16 villages had collectively deposited Rs 35.5 crore in stamp duty in 2018-19 and Rs 41.3 crore in 2019-20.
"We have already done a drone survey of these villages and started mutations of the entire land. In order to protect the land from encroachment, we are planning to construct walls around them," said Hariom Attri, joint commissioner 3 at the MCG.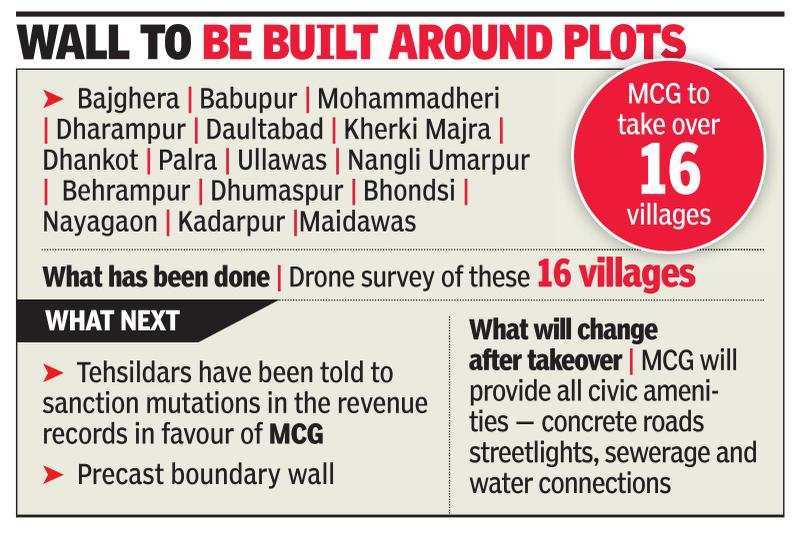 The villagers, however, have expressed apprehension over the takeover, saying they are more comfortable approaching the pradhan with their grievances rather than any civic official. According to the order, MCG will now take over the responsibilities of all municipal services such as streetlights, water, sewerage and enforcement of buildings plans. However, all major roads, storm-water drains and water supply lines in the new sectors, which are a part of these villages, will stay with the GMDA. Like in urban areas, the villagers will now have to pay property tax too.
The corporation had initially made a proposal to take over 39 villages in total. But after strong objections from the villagers, it was decided that only 16 villages would be brought under MCG while the remaining would go to the new municipal corporation of Manesar. The civic body in Manesar will have 29 villages under it.
The villages that will come under MCG are Bajghera, Babupur, Mohammadheri, Dharampur, Daultabad, Kherki Majra, Dhankot, Palra, Ullawas, Nangli Umarpur, Behrampur, Dhumaspur, Bhondsi, Nayagaon (situated in the revenue estate of Bhondsi), Kadarpur and Maidawas.