GURUGRAM: For hundreds of villagers in
Sohna
's Rani ka Singola village, who have been struggling to get bank loans to build houses on land they have no ownership proof of, Wednesday will mark a new chapter as the state government begins an exercise to end the century-old
Lal Dora system
in the district.
As part of chief minister Manohar Lal Khattar's Swamitva scheme, a 13-member team from Survey of India will tag residential properties in villages falling under Lal Dora using drone mapping to offer ownership to villagers who have occupied the land for decades, but have no mention in revenue records. Apart from Rani ka Singola, 11 other villages in Gurugram will also be covered.
Till now, under the Lal Dora system, ownership of the land depended on possession. The land would be sold on mutual consent of the buyer and the seller, as there would be no registration of the land in government records. As a result, the property owner was unable to get a loan from the banks. The system came into being in 1908 during the British rule. At that time, red lines were drawn on maps delineating village habitation from nearby agricultural land for revenue records. The system demarcated land used for residential purpose in villages, but there was no record of ownership and no revenue was collected.
Now, with the new initiative, the state government aims to not only resolve thousands of disputes related to possession and ownership of land, but also boost revenue generation for the state exchequer. The move will also help people in selling and purchasing land and get home loans.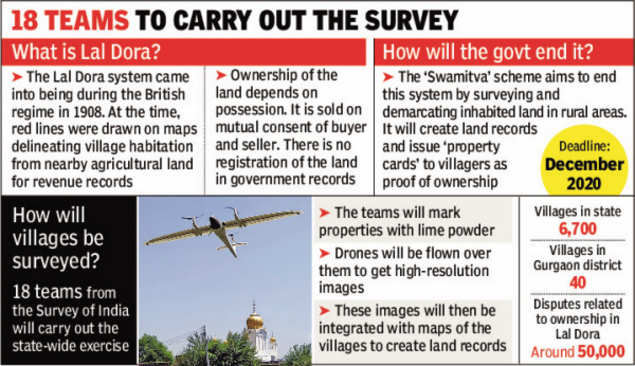 Officials said 13 districts in the state are being covered under the exercise at present. The government aims to cover the entire state by the end of this year. "This will lead to the creation of the most durable record of property holdings in these areas, which have no legacy revenue records," said V Umashankar, additional principal secretary to the chief minister.
An official, who is part of the survey team, said, "It will be an unusual sight for villagers. From Wednesday, a team of officials will be flying a drone over their properties and marking borders with chuna (lime powder)."
Janardan, a resident of Sirsi village in Karnal where the survey was recently conducted, said he had always dreamed of building a house on his 290 sqm plot, but his biggest challenge was getting a bank loan. "I didn't have any document to prove ownership as my property fell within Lal Dora. Banks refused loans. But now I have a 'Property card' as ownership proof," he said.
Like Janardan, there are lakhs of villagers in about 6,700 villages of Haryana who will get relief. Sube Singh Bohra, former sarpanch of Wazirabad, said this will be a big reform as land will be registered in the name of the owner, bringing to an end to disputes on land possession and ownership. "It will also help to generate revenue for state government as people will have to get their land registered as per the norms," he added.
Surveyor general of India Lt Gen Girish Kumar said 18 teams will mark properties with lime powder, then fly drones over them to get high-resolution images. These images will then be integrated with maps. "We realised that flying aircraft or taking satellite images will not give us the desired results, so using drones was the best way to recreate the entire terrain," he said.
"We have completed the activity in nearly 600 villages in Haryana, and maps of 110 have been prepared. We plan to cover all 6,700 villages in the state by December," Kumar added.
He said that the scheme aimed at providing an "integrated property validation solution" for villages. "Owners will get 'record of rights' which, in turn, will enable them to use their property as a financial asset for taking loans and other financial benefits from banks," he said.