GURUGRAM: A peculiar fallout of the creation of a second civic body in the city is being witnessed at Vatika India Next, a 700-acre township spread across sectors 81-85, which finds its precinct split between the municipal corporations of Gurugram and Manesar.
The jurisdictional quirk is not new to its residents, who have been voting in two different assembly constituencies — Badshapur and Pataudi — and have five sectors in the address line. But instead of a practical resolution to this oddity, there is dismay that the split jurisdiction will become a permanent one with the new civic mapping of the city.
There are independent villas, highrises and condominiums within the township. As per the notification, Vatika Block-K, City Homes, Lifestyle Homes and Gurugram 21 will come under MCG, while The Seven Lamps, independent floors of blocks E, F, G, H, I, and S, and independent plots will fall under the limits of the Municipal Corporation of Manesar (MCM). Some 15,000 families are living in the township.
Residents say they have already been living with the blurred lines of accountability — not being represented by one MLA, for instance — and now a split civic jurisdiction could trigger long-term civic problems because any resolution would require two sets of administrators to be involved.
Lokesh Yadav, general secretary of K Block RWA, says, "There is a lot of confusion among residents since the zoning of the area as it will be very difficult for us to coordinate with the authorities concerned for our civic problems. We are already facing a lot of problems as we are divided by constituency, and now residents will bear the burden of being part of two civic bodies."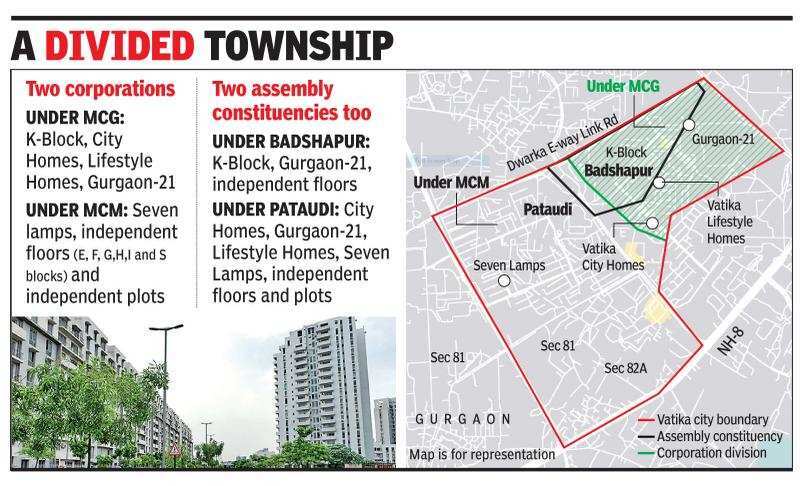 The residents point out that despite the formation of a new municipal body, there is no clarity on the scope of demarcation. Sayandeb Bose, a resident of Lifestyle Homes, says, "The sector comprises mixed land of villages and now that the new municipal body came into existence, they should demarcate the constituency according to the sectors. Similarly, the demarcation of MCG and MCM must be done accordingly to avoid any ambiguity as the villages are now part of the urban development planning."
The residents claim that earlier it was proposed that sectors 77 to 95 will be part of MCM but after the zoning of the area, their society has been left out. "Since the beginning, our registry has been done at Manesar tehsil. If our area is already under MCG limits, then why are we deprived of our civic amenities and why no development work has been carried out by MCG in the past five years," asks Amresh Mishra, another resident of Lifestyle Homes.
"We don't understand the logic behind excluding our area from MCM limits. It would be better if our sector is incorporated in it as most revenue is collected by this side of the city. We don't want our area to be neglected anymore. There is no basic infrastructure, including roads, water supply lines and sewerage system, in place, while MCG has always prioritised other parts of Gurugram," says Subhash Yadav, general secretary of City Homes RWA.
The residents say the area has been neglected for the past many years. The government has created a separate municipal body to look after the civic issues of the new Gurugram areas, then they should be clear about their thought process and devote it towards development not about revenue or vote base, according to them.
Pradip Rahi, a resident of Gurugram 21, says, "We have stray dog menace in the society but MCG has not yet responded, despite repeated complaints. There are 1,100 families in our society, half of whom cast their vote in Pataudi while others vote for Badshapur constituency. We don't want a similar situation to arise when it comes to municipal body."
Others have called for more accountability and transparency in the functioning of the municipal body. Amit Dhiman, another resident of Gurugram 21, says, "We have no qualms about whether we are part of MCG or MCM, but they should clearly define their responsibility so that the accountability can be fixed."
Despite repeated attempts, MCG commissioner Vinay Pratap Singh could not be contacted.
Meanwhile, the residents of the township raised the issue with the local MLAs and MCM commissioner on Sunday and were assured that their problems will be resolved.