GURUGRAM: Shashank Singh, an IT professional who bought a flat in Godrej Aria in Sector 79 in August last year, could not get his property registered in his name due to some glitches in the registry software.
He had even purchased stamp paper and was eagerly awaiting for the registration process, halted by the government, to restart. After waiting for over five months, registries finally resumed at Manesar tehsil on December 24.
"When I went to the tehsil, I was shocked to find that the stamp duty had been increased by 2%. I was asked by Manesar tehsil officials to pay around Rs 2 lakh more for the registry of my flat," said Singh.
Like Singh, thousands of property owners in new Gurugram, which is now partly under the newly-formed Municipal Corporation of Manesar (MCM) and the recently-enlarged Municipal Corporation of Gurugram (MCG), will now have to shell out 2% more of the property cost for registration of their properties.
Devendra Kumar, who too bought property in Manesar last year, said registries stopped due to corruption in the revenue department and it took the state government around six months to rectify the system. "Why should homebuyers, who have been waiting all this time, pay an additional fee?" he asked.
Another resident said the state government should offer a -month window to property owners who had purchased stamp papers for registry before MCM was formed.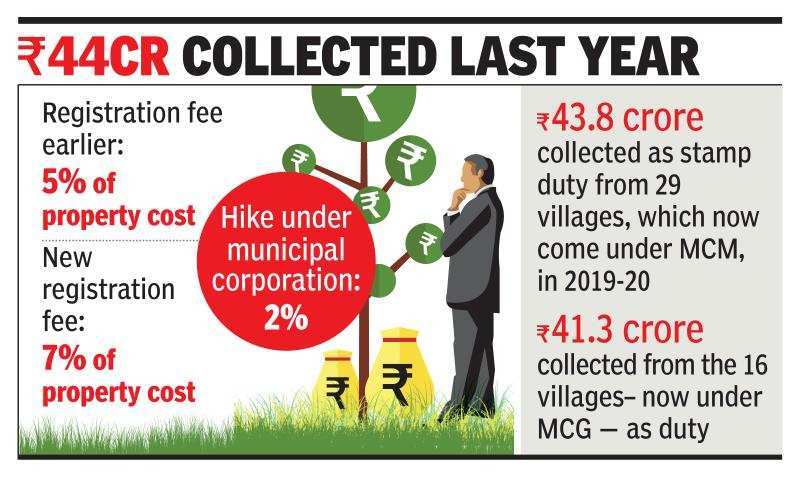 MCM district revenue officer Hariom Atri said, "We have already implemented additional stamp duty of 2% in the new areas added under MCG as well as MCM. Homebuyers buying properties in these villages were paying 5% as stamp duty. Now, they will have to pay 7% as stamp duty. The revenue generated from stamp duty will be used for the development of these villages."
Pataudi MLA Satya Prakash Jrawta has sought relaxation for owners. In a meeting held with villagers and residents of areas under MCM and newly-added areas of MCG limits on Sunday, he said, "These property owners who had applied for a registry before the state government issued notifications demarcating new limits but could not get it done due to technical glitches."
He also said that he had received representations from such people and will forward them to the state government. "We will request the higher state authorities to look into the matter," said the MLA.
A total of Rs 63.5 crore was collected as stamp duty from the 29 villages in Manesar that now constitute MCM in 2018-19, and Rs 43.8 crore in 2019-20. Meanwhile, Rs 35.5 crore was collected from 16 villages now under MCG in 2018-19, whereas Rs 41.3 crore was collected in 2019-20.