GURUGRAM
: Unable to conduct monthly meetings due to Covid restrictions, the department of town and country planning (
DTCP
) is flooded with complaints from residents in several housing projects in the city, an official said.
Most of the complaints are related to poor maintenance and upkeep, lack of connectivity, and inadequate power and water infrastructure. As per a rough estimate, more than 100 complaints have been received by the department in the past three months and most of them are pending due to Covid restrictions.
Last year, DTCP had announced that it will hold monthly meetings and resolve complaints filed by hundreds of families living in licensed colonies and housing societies in the city.
Residents of JMD Garden in Sector 33 said even after 10 years of moving into their flats, around 500 families are still struggling with maintenance related issues and inflated electricity bills. "We have raised their concerns at multiple agencies, including the CM window and DTCP, but failed to get any response," said Ruby Mishra, one of the residents.
"The RWA and residents have met the local MLA, deputy commissioner and DTCP on several occasions requesting for support, and in February 2019, the DTCP issued a letter asking JMD Ltd, the builder, to handover the maintenance to the RWA, but even after 18 months the builder continues to defy the orders of DTCP," said another resident.
The residents of Emaar Palm Drive have been demanding action against the developer for encroachment on six-metre fire lane along the boundary of the gated colony. "In case of fire, there is no pathway for the fire tender to pass," a resident said.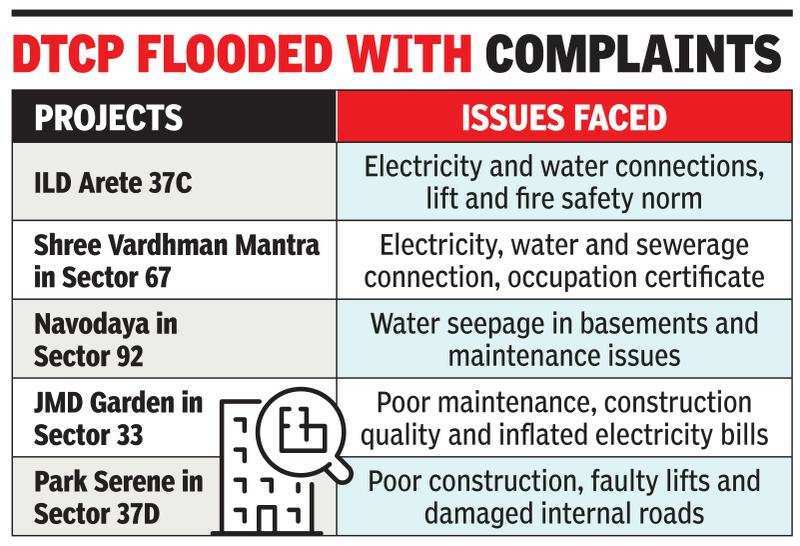 Apart from this, the residents of ILD Arete 37C have written to DTCP regarding no electricity and water connections, faulty lift and fire safety systems but no action has been taken till date.
Similarly, residents of Shree Vardhman Mantra Sector 67 also raised issues related electricity, water and sewerage connection and no occupation certificate. Navodaya Sector 92 residents have been fighting for water seepage in basements, lack of permission for swimming pool and maintenance issues. "The DTP visited the project but action is still pending. We want DTCP to interfere" said a resident.
Few other projects where residents have raised their concerns included JMD Garden, Sector 33 and Park Serene in Sector 37D. "The key issues faced by the residents include maintenance related issues, poor construction quality and inflated electricity bills, faulty lifts and damaged internal roads" said the residents.District town planner RS Batth told TOI that the department has more staff now as new assistant town planners have joined, therefore, the RWA and developers related issues would be taken up on a regular basis. "We are planning to hold full day meeting, once a week, with RWA and residents and resolve the pending issues at the earliest," he said.