GURUGRAM
: The takeover process of three
DLF
phases in the city by the Municipal Corporation of Gurugram (MCG) is finally shaping up, with the civic body speeding up the procedure by deciding to initiate deficiency assessment in these areas.
People living in DLF Phase 1, 2 and 3 have raised several complaints regarding the pending infrastructure work and improper maintenance in these licenced colonies. As a result, the civic body is now planning to review the deficiencies in the three areas, officials said on Sunday.
The state government had directed the director of the town and country planning department to transfer the maintenance responsibility of these colonies to the MCG in February 2019 with the mandate that the civic body will take over the colonies after due verification of the work done by the developer and the deficiencies.
A senior MCG official said a meeting has been scheduled for January 6, in which the ward councillor, the developer, and officials will be present. The aim is to discuss the infrastructure deficiencies related to roads, sewerage, drains and parks.
The official added that the chief engineer of the MCG has been asked to submit an updated status report on the development work in the areas while the developer has been directed to send a senior representative to the meeting.
RS Rathee, councillor of Ward 34, said the residents have been facing difficulties due to infrastructural deficiencies and it could only be resolved after the civic body takes over the colonies.
As per the 2019 order, the other colonies that were part of the MCG takeover include Sushant Lok 1, Palam Vihar, Suncity, South City 1 and 2. While these colonies have already come under the civic body's purview and development work has started in these areas, DLF phases 1, 2 and 3 are still to be taken over by the corporation.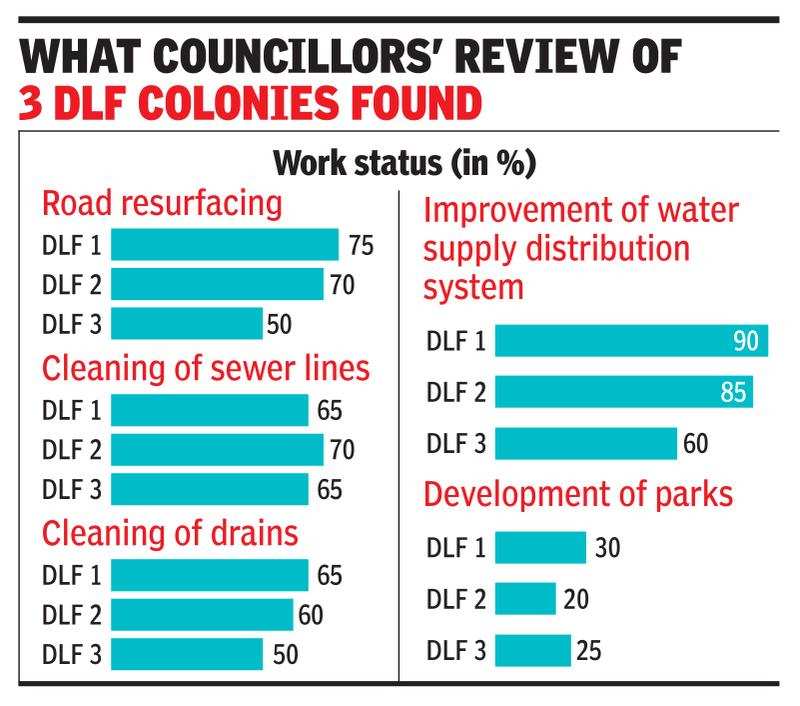 In December 2019, DLF had informed the civic body that it would complete the infrastructure work as soon as the blanket ban imposed by the Supreme Court was lifted. The developer also said it was carrying out the maintenance work on water supply, sewerage, horticulture, upkeep, security among others in consultation with the residents' welfare association (RWA).
The developer had also replied to the complaints of the DLF Phase 3 RWA on the poor condition of a park. DLF had charged preferential location charges (PLCs) from the plot holders. Thereafter, a letter from the MCG joint commissioner (III) said a large number of complaints on water, sewerage, horticulture and sanitation were pouring in owing to the developer not handing over the areas.
In February 2020, DLF submitted a progress report in which it claimed to have completed the pending infrastructure work such as the construction of roads, sewerage network and drainages, laying of water pipelines and development of parks and requested the corporation to send its team for verification.