CHANDIGARH
: The UT administration has refused to give Rs 102 crore financial grant for the development of 13 villages transferred to the municipal corporation (MC) in 2019, in a major blow for residents and the civic body that will be unable to start any key works.
"The administration told us they don't have the finances right now. If the central government releases some amount in the revised estimates (RE), only then the money will be available for the current financial year. So, the developmental plan of these villages will remain on papers for now," an official of the MC said.
These villages have no councillors, with nominated councillors looking after them. They have been holding regular meetings with residents. Based on the interactions and the input of the nominated councillors, the engineering department had prepared the plan that was waiting for funds to be implemented.
The developmental plan included building roads, laying storm water pipes and sewer lines, electrical and horticulture works, supply of water and putting up 1,200 tubewells in different locations. Bringing canal water in a few villages was also a prominent part of the plan.
A senior officer of the MC said, "Although the financial estimate has been sent after an intensive exercise, there is no hope of getting any immediate financial help from the administration. Senior officers were regularly told about the importance of the works, but since the allocated grant-inaid of the MC was deducted due to the Covid-19 pandemic, there is hardly any chance of securing additional funds."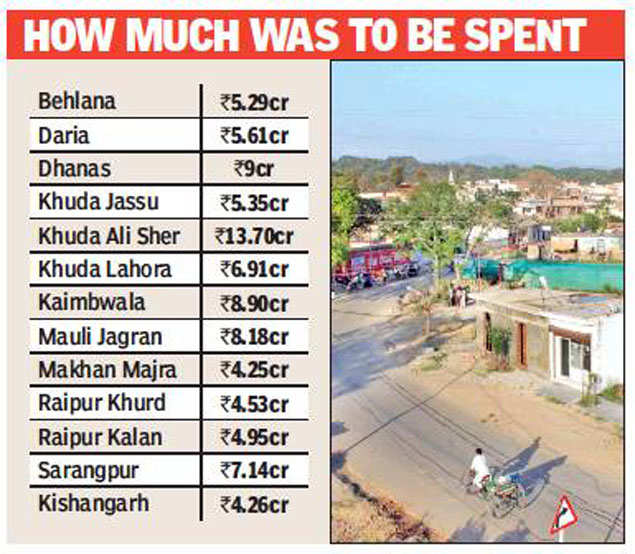 The 13 villages, whose developmental plan was prepared, are Behlana, Daria, Dhanas, Khuda Lahora, Khuda Jassu, Khuda Ali Sher, Kaimbwala, Mauli Jagran, Makhan Majra, Raipur Khurd, Raipur Kalan, Sarangpur and Kishangarh. Earlier, all these villages were under the control of the panchayat department of the administration. The civic body authority has already taken over the record of these villages to ensure works.
Officers of the engineering department had visited the areas to assess the situation and had prepared the plan. Moreover, ideas, suggestions, views of the local people, including political representatives, were also taken.