NEW DELHI: Delhi Development Authority (DDA) has a New Year gift for those who want a home of their own in the capital. DDA is going to launch its Housing Scheme 2021 in the first week of January and on offer will be 1,175 flats, including 200 3bhk flats in Jasola and 700 2bhk flats in Dwarka.
The last housing scheme was launched by DDA in March, 2019 and on offer were 17,922 flats, even though eventually a draw of lots of 10,294 flats was conducted as more than 7,000 flats for economically weaker sections (EWS) were removed as there were very few applications for this category.
The scheme is ready and the proposal is going to be tabled in the authority's meeting, to be chaired by Lt Governor Anil Baijal soon. "All the flats to be offered in the scheme are completely constructed and ready for disposal. We have made all preparations to launch the scheme as soon as it is approved in the authority's meeting," a DDA official said.
"All flats on offer this time are in good locations in Dwarka and Jasola and there are only Higher Income Group (HIG) and Middle Income Group (MIG) flats in the scheme this time," he said. In its previous housing schemes, Lower Income Group (LIG) 1bhk flats had found few takers and that is why, DDA hasn't kept any in the 2021 housing scheme. There are, however, 275 EWS category flats in Manglapuri near Dwarka that will be part of the scheme and priced below Rs 25 lakh.
The MIG flats will be priced approximately Rs 1.2 crore and the HIG flats will cost around Rs 2.2 crore. While the MIG flats at Dwarka's Sector 16-B and 19-B are well-connected to Delhi Metro's Blue Line (Dwarka-Noida/Vaishali), the HIG flats at Jasola are located near the Jasola Vihar-Shaheen Bagh metro station of Magenta Line (Botanical Garden-Janakpuri West).
Keeping in mind the pandemic, the housing scheme would be completely online. The scheme will be kept 'open' for a far longer period to ensure there is no rush to visit sample flats. DDA, however, has withdrawn its earlier plan to allow applicants to opt for a flat at a floor of their choice, corner location or flats facing green areas or main road by paying 1.5-3% extra of the flat's cost.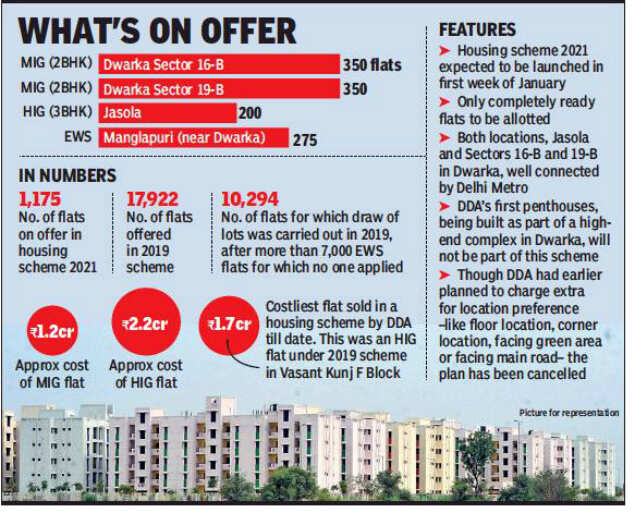 The scheme does not include the luxury flats DDA is building at Dwarka's Sector 19-B, which includes penthouses with terrace gardens and luxury furnishing and 'Super HIGs'. "The luxury flats will be part of our next housing scheme, which we plan to launch later in 2021," the official said.
DDA has prepared a new software for the housing scheme, which the official claimed, "will bring a lot of changes in the process and make it completely online. While earlier, applicants were redirected to websites of different banks for the application process, the entire exercise will be in a single-window operation on the DDA portal."