CHANDIGARH
:
Punjab
,
Haryana
and the PGI, which demanded the costliest flats for their bureaucrats and doctors at the IT Park, have now received a letter from the
Chandigarh Housing Board
(CHB) for 25% payment.
Building these eight to 10 residential towers will cost Rs 500-to-600 crore. Sources in the UT administration said each tower of 28 flats will be worth Rs 60 crore. Haryana wants to reserve three towers, while Punjab has requisitioned one for its bureaucrats.
The Post Graduate Institute of Medical Education and Research (PGIMER) has given the CHB no written requirement, so far, but asked for two towers verbally for its doctors. Last week, 24 architectural firms from across the country showed their drawings to the high-level technical committee for finalisation.
A CHB official said: "We have sent the requirement of payment to both state governments and the PGI, telling them to deposit the money quickly to get a financial consent for the project. Moreover, we have also asked Punjab and Haryana to show interest if they need flats for their legislators, too, so that a space can be reserved. We have also asked the Chandigarh administration if it wants a tower but it is yet to give its consent."
This new kind of expensive housing project will take a lot of planning, design, green area, and prime land. Fast running out of plot space, the CHB has proposed flats for the MLAs also, because the Punjab government had asked for these a few years ago.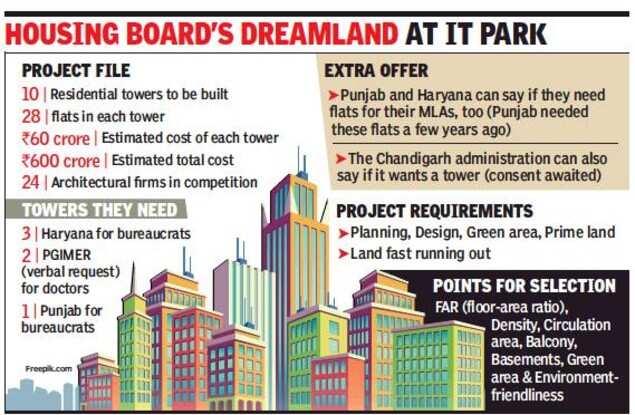 The Chandigarh housing board is scouting the best architects for this project. The high-level committee is assessing those plans, designs, and ideas that the 24 interested architectural firms presented to the housing board in a recent virtual meeting. The committee's key points for selection were the FAR (floor-area ratio), density, circulation area, balcony, basements, green area, and environment-friendliness. The members discussed every plan in detail. The competing companies had come from New Delhi, Mumbai, Nasik, Jaipur, and Ahmedabad.