CHANDIGARH: In a major relief to allottees of Chandigarh Housing Board (CHB) flats, the board has proposed to extend the deadline of allowing needbased changes for one year till December 31, 2021. The proposal has been submitted before the UT administration for final approval.
The CHB has already ruled that the changes carried out in the flats by the allottees, which do not meet the criteria fixed by the administration in its notification of need-based changes, will still be termed as violations.
The board had asked allottees to apply for regularisation of need-based changes after paying some charges. Last year, the administration had decided not to provide a one-time amnesty solution for large scale violations by CHB allottees.
UT administrator V P Singh Badnore earlier had decided to extend the deadline of allowing need-based changes, which had ended on December 31, 2018, to December 31, 2020.
The administration had clarified that additional constructions in the dwelling units of CHB flats are given temporary exemption from immediate demolition, subject to payment of penal charges.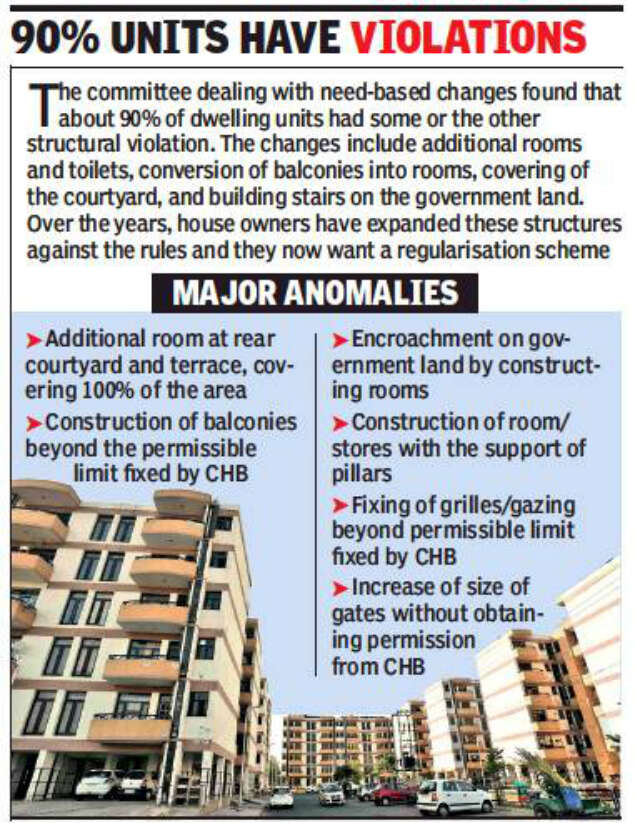 The penal charges are imposed in view of the fact that demolition of additional construction at a large scale may eventually be the only alternative, however, the allottees may get some time to rectify these violations in conformity with the need-based changes orders, the administration had clarified.
Over the years, residents of 50,000 CHB flats have made need-based changes in their flats. However, the administration had not regularised these changes .