CHANDIGARH
: Union home secretary
Ajay Bhalla
will hold a meeting with UT officials and representatives of employees on Wednesday to end their deadlock over the cost of flats for UT employees housing scheme-2008.
The employees have already turned down two options given by the administration for their flats — cost of flats as per plotted area or as per entire area of land.
According to option of plotted area, the three-bedroom hall kitchen (BHK) flat will cost Rs 1.51 crore, two BHK flat Rs 1.17 crore, one BHK flat Rs 68 lakh and one BHK (EWS) flat Rs 46 lakh. Under this proposal, the land cost will be charged on plotted area basis. The UT proposed that the though 65.96 acre of land will be utilised, only 38.02 acre will be charged The financial concession of Rs 1,002.49 crore will be extended in reducing land cost by modifying the cabinet decision.
According to the second option, the cost of the entire land will be charged but with more floors. In this option, the UT will charge Rs 1.69 crore for 3BHK, Rs 1.31 crore for 2BHK, Rs 75 lakh for one BHK flat and Rs 54 lakh for one BHK (EWS) flat.
In this proposal, three and two BHK flats will be constructed on ground plus six floors, whereas one BHK will be constructed on ground plus 10 floors. The UT has proposed that a total 48.33 acre of land will be charged @Rs 35.88 crores per acre which will come to around Rs 1,734 crore.
Though there will be not any financial concession toward cost of land, the floor area ratio (FAR) will be increased and modification of master plan will be required for extra height.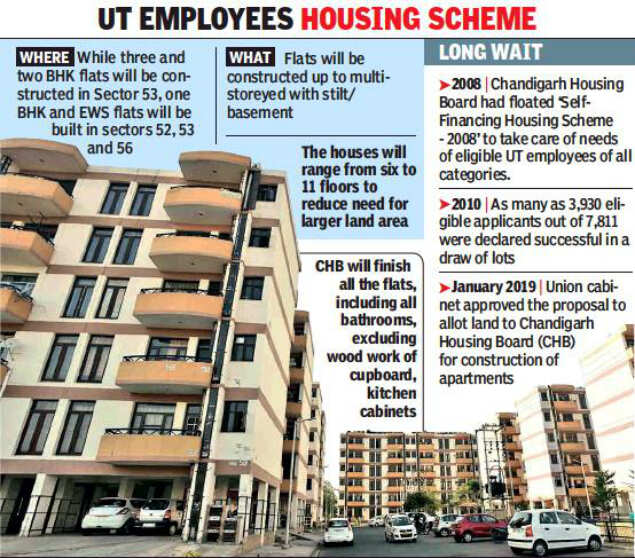 The houses will range from six to 11floors to reduce need for larger land area.
In view of demands from different categories of employees working in the administration or its board/ corporation and Punjab and Haryana high court, or on deputation, the scheme was floated by Chandigarh Housing Board in 2008 to take care of the housing needs of eligible UT Employees of all categories. Draw of lots of the scheme was held on November 4, 2010, in which 3930 applicants out of 7,811 were declared successful.