CHANDIGARH
: The UT estate office is planning to hold e-auction of 10-15
residential
properties around Lohri in January next year, kick-starting the process after the plan to hold the event during the festival season this year failed to materialise.
Sources said like previous year, the estate office will fix the reserve price of properties on collector rates of the area.
In 2019, the estate office had put up properties — 11 residential, 14 commercial and one industrial — for auction on November 13 and 14. While there were no takers for commercial and industrial properties, the estate office had earned Rs 44.05 crore from the residential properties. Their total reserve price was Rs 27.59 crore.
A 1,014 square yard plot (which was around 2 kanal) in Sector 33 was auctioned for Rs 15.30 crore against a reserve price of Rs 7.53 crore. All residential properties were in southern sectors.
One of them was a built-up house on a four-marla plot in Sector 32 A. It was auctioned for Rs 1.68 crore against a reserve price of Rs 1 crore. The remaining properties were plots, whose reserve prices ranged from Rs 1.25 crore to Rs 7.53 crore. They were located in sectors 33, 35, 37, 38 and 40.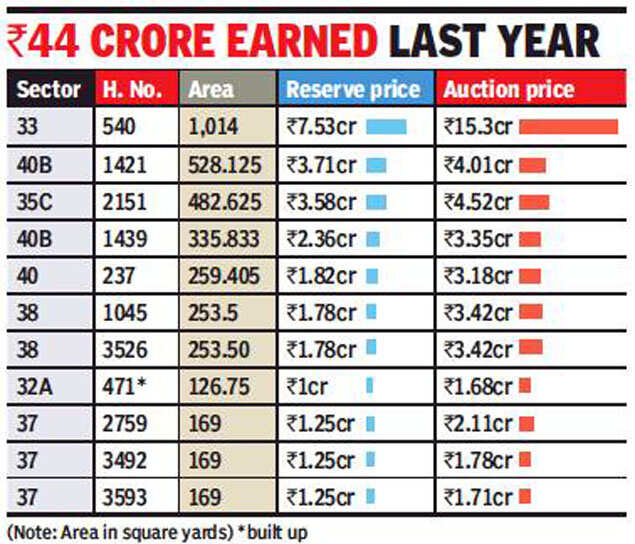 According to market experts, there were buyers for residential properties as all of them were freehold and anyone who buys them will not have to shell out the exorbitant leasehold-to-freehold conversion fee charged by the administration. The total reserve price of commercial and industrial properties was Rs 15.1 crore and Rs 33 crore, but they did not find any takers.
A workshop will be organised on how one can participate in the e-auction.