CHANDIGARH
: The
Chandigarh Housing Board
(CHB) has decided to carry out topographical survey of construction site of its housing scheme for the general public at Rajiv Gandhi Chandigarh Information Technology Park (IT Park).
The board is planning to launch the scheme in April and accordingly they carried out survey of the land and found that there was a 'barsaati nullah' (water course that flows during the rains). The CHB has decided to carry out topographical survey of the area, so that they can divert the barsaati nullah before starting construction work.
The scheme, which was approved by the board of directors of the CHB in December last year, will have 728 flats.
The CHB has finalised drawings of the flats and submitted it to Plan Approval Committee. Though the exact rates of flats are yet to be decided, tentative cost ranges between Rs 1.5 crore and Rs 2.75 crore. The project land is part of 123 acres that CHB got back from Parsvnath Developers after a long-drawn legal battle.
CHB will develop the project on two plots, measuring 10.51 and 6.43 acres. In all, there will be 728 flats of three categories (4, 3 and 2 BHK) in seven-storey towers.
The towers will have two basements with provision of parking of two cars for each flat in addition to surface parking for visitors.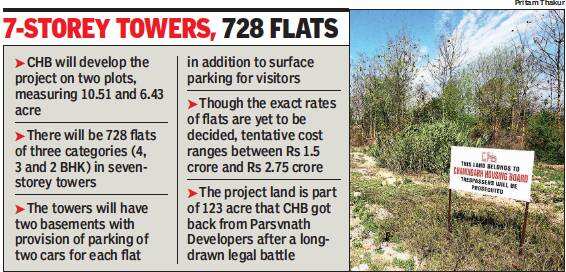 The board has decided to launch the scheme after it failed to sell 18 residential and commercial sites in an e-auction two years ago.
Due to the high reserve prices, not many developers evinced interest in the auction. High-end flats for government officials of the Chandigarh administration, Haryana and Punjab are also planned in the area.