NOIDA
: The government-backed National Buildings Construction Corporation (NBCC) said on Sunday it had doubled its workforce from 6,000 to 12,000 to expedite the completion of 19 pending Amrapali projects. While work on 17 projects is underway, one more was handed over to a construction company last week. The last one is expected to be handed over to a company by the end of October.
Since these 19 projects are in various stages of completion, NBCC would take from nine to 36 months to finish construction. In total, 43,518 flats are left to be handed over to buyers. The responsibility of constructing Dream Valley Phase 2 was handed over to a firm last week. The 19th pending project — Leisure Valley Verona Heights — is likely to given to a construction firm on October 28.
While the company managing Dream Valley has to construct 8,302 flats, Verona Heights has 4,964 flats pending. In projects that are partly complete and residents have already occupied flats, work on finishing them will go on simultaneously.
"We will be handing over the keys simultaneously and not wait for the entire project to complete. By October, we expect to award the completion of Leisure Valley Verona Heights too. Before Diwali, work on all pending projects should be in progress," said PK Gupta, the NBCC chairman.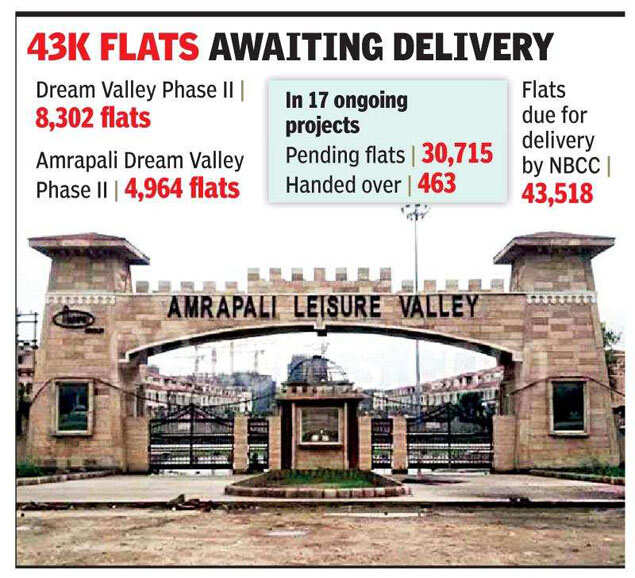 NBCC has already handed over Eden Park and Castle projects. In the 17 ongoing projects, the government company has to roughly complete 30,715 flats. In the two other projects in which NBCC has now started work or will do so in a month, it has to deliver around 13,000 flats.On August 7, NBCC had announced it would complete and hand over at least 150 flats every month. On Sunday, the company informed that by the end of September, it had handed over 463 flats. NBCC had started handing over flat keys since July.
"We welcome this announcement by the company. But just as it is pushing for completion, the quality of construction is equally important for us. Attention should be paid to it as well," an Amrapali buyer said.