BENGALURU: The new Parking Policy 2.0 for Bengaluru, which advocates permits and fees even for those parking vehicles on streets in front of their house, has elicited mixed response from citizens. Meanwhile, the agencies concerned asserted that they are going ahead with implementing the proposals.
While one section of the citizenry has given a thumbs up to the policy, another says it is unfair to charge people for parking in front of their house as many residences are old with no provision to accommodate parking space.
Padmashree Balaram, a member of Koramangala 1st Block resident welfare association, said: "Residents should be charged huge amounts in case they are parking in public places or outside their homes. If a person can own an SUV, s/he can easily pay for parking."
Nithya Reddy, a committee member of Langford Town RWA, said parking fee is a welcome step towards sustainable living. "Parking fee will reduce the number of people wanting to purchase cars and, over time, public transport needs to be given a boost to wean away people from private vehicles," she said.
Anwar, a resident of Central Business District, said the proposal can be implemented in newly developing areas, not the already developed pockets. BBMP needs to find alternative spots for residents to park their cars, he said, adding: "Many citizens have already built their homes and these new changes cannot be implemented so easily. The government needs to find alternative spots for us."
Sashikala Polisetty, secretary, Shantinagar resident welfare association, said people will get used to paying the fees, but wondered if things would improve. "If the government is working towards wholesome development then it should provide better public transportation with last-mile connectivity and alternative parking facilities," Sashikala told TOI.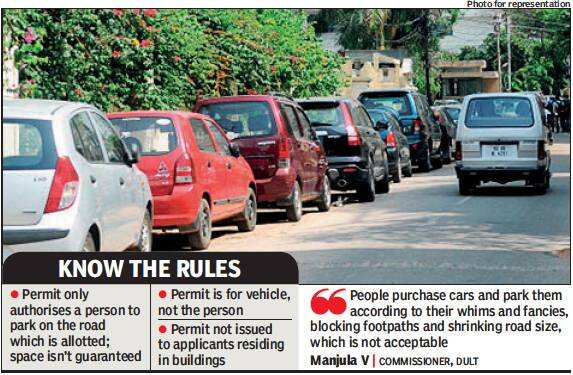 Last week, the urban development department approved the new parking policy 2.0. The directorate of urban land transport (DULT) drafted the new policy guidelines and is working in cooperation with BBMP and Bengaluru Traffic Police (BTP).
Manjula V, commissioner DULT, said people buy cars without thinking of parking space."People purchase cars and park them according to their whims and fancies, blocking footpaths and shrinking road size, which is not acceptable," said Manjula.
DULT is preparing the draft area parking plan for the city's eight zones. "We have included all types of parking — on-street, residential and commercial. Prices will vary according to location," she said, adding: "We are also offering monthly parking passes for the benefit of regular users of off-street parking."
"We are working on the rates. If a person needs to park in front of his house, the rates per year will be Rs 5,000 for MUVs and SUVs, Rs 3,000-4,000 for medium cars and Rs 1,000 for small cars, while two-wheeler parking fee is yet to be decided," another senior BBMP official said.
On a pilot basis
Manjunatha Prasad, BBMP commissioner, said the new policy will be introduced on a pilot basis in some areas. "We will also look for the nearest space and take it on rent and construct multi-level parking facilities so that residents can use them," he said, adding that many things are being worked out.
"Residents will be allowed to purchase permits on a quarterly or annual payment basis. We will also be issuing an authorisation letter to park a car in designated parking areas," Prasad said.