AHMEDABAD
: At a time when a large number of offices has switched to
work from home
(
WFH
) mode to tide over the Covid-19 pandemic, it has proved costly for a local ceramic trader. The
Ahmedabad Municipal Corporation
has imposed
commercial
property tax
on the trader for 'commercial use' of his residence after the officers found display of ceramic articles in his home.
The AMC has also directed Suresh Tahiliani, owner of the ceramic business in Naroda, to stop using a portion of his residence as workplace as he had earmarked a small space of the property as his office following the lockdown period.
Though Tahiliani stopped using the space as office, he was forced to move the city civil court against the AMC's notice which also directed him to restore the property to its original status of "residential" . Last week, the court stayed any action on AMC notice at least till the civic body explained its position before the court.
Tahiliani had purchased a residential property, demolished the structure and rebuilt it in 2016. A year later, he obtained the building use permission for residential purpose. He has been paying property tax to the civic body under the category of residential property for two years.
In July this year, he was asked to pay commercial tax for the property for 2019-20 after civic officials found an office being run from the premises. Tahilani had no issue with paying commercial tax, but AMC issued him a notice asking to stop using the property for commercial purposes and restore the building to its original position.
Tahilani wrote back to AMC in October explaining how he obtained BU permission after reconstruction three years ago. It was only for a short time after the lockdown that the small portion of the premises was used as an office where ceramic articles were also showcased.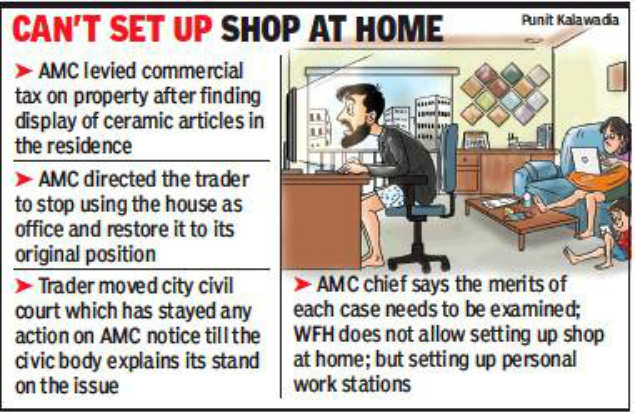 'WFH doesn't mean setting up shop at home'
Ahmedabad Municipal commissioner Mukesh Kumar said the merits of the case would have to be examined. "Usually, WFH does not mean that you can set up a shop at in your house. WFH means having a personal workstation, a few files and a corner room to yourself. AMC does entertain applications for converting part of residential properties for commercial use, but then there is a procedure."
"We receive applications from citizens for converting part of the residence for commercial use for requirements under Shops and Establishment Act or for obtaining professional tax certificates. But when people don't reveal that part of their properties are used for commercial purpose we have to go by the book. At present AMC does not have any tax exemption policy WFH policies," says a senior AMC tax official.
AMC did not respond to Tahilani's representation, and he went to civil court. The AMC has not responded to the court's notice and the court thus stayed any AMC action pending reply.