GHAZIABAD
: After Covid lockdown woes, the cash-strapped
Ghaziabad Development Authority
(
GDA
) seems to be finally finding takers for its properties. Between July and October, GDA sold properties worth Rs 125 crore, officials said on Tuesday.
This comes as a major respite for the GDA as the auction process had to be stalled between April and June due to the Covid-19 lockdown. "GDA was facing funds crunch prior to the pandemic but the lockdown had made matters worse. Now things are looking better," said a GDA official.
In fact, property sales have started picking up since September. "Our data shows that the development authority auctioned properties worth Rs 125 crore between July and October, which include 30 industrial plots, 30 commercial plots, 128 flats and 15 residential plots," the official said.
Buoyed by the response, GDA has started holding auctions every Saturday, with a hope that it will be able to auction at least 50% of Rs 300 crore worth properties in the coming days. "Market is showing some signs of revival and we do not want to miss it. So, we have decided to hold auctions every Saturday, except on holidays," said the official.
As a concession, GDA will allow buyers to deposit 10% of the property amount at the time of auction, 25% after necessary paperwork, and the remaining in instalments, officials said.
Past data suggests that the development authority generated anything between Rs 700cr and Rs 750cr annually from compounding fees, map sanction, dues and rents. But over the past four months, that source of income has dried up.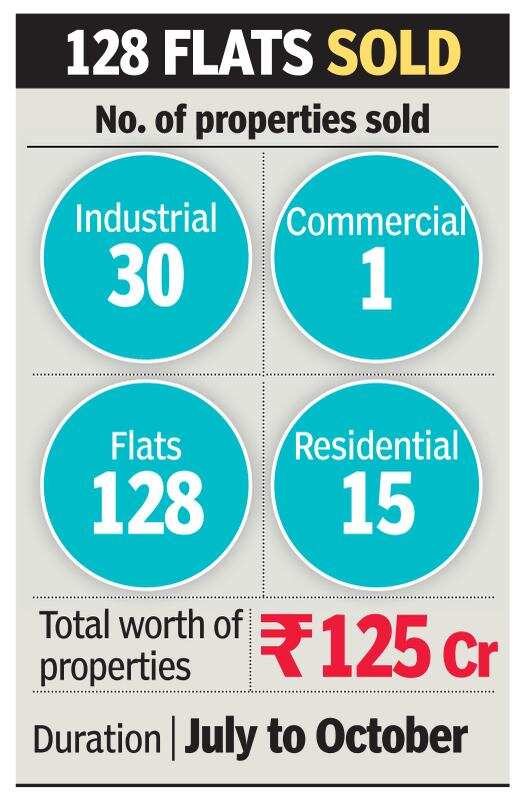 As far as liabilities are concerned, GDA has taken a loan of Rs 800 crore from the NCR Planning Board for its elevated road project and about Rs 900 crore from Allahabad Bank for its Madhuban Bapudham housing scheme. Annually they repay somewhere around Rs 270 crore, which leaves very little with GDA to fund its ongoing projects. As a result, many big-ticket projects in the city have been kept on hold.