KOCHI
: After much delay, work on the second tower of the apartment complex to house slum dwellers in Fort Kochi will soon be started.
Cochin Smart Mission
Ltd (
CSML
) has awarded the work to construct an apartment complex with 195 individual units to a private firm.
Officials with CSML said that the work on the Rs 46-crore project will soon be started and it should be completed within two years as per the schedule.
"It will be a ground-plus-thirteen storeyed structure. The ground floor will house shops, parking lots and other utilities. There will be 15 one BHK individual apartments with 25.35 sqm in each floor. Total built up area is 12,317 sqm," an official associated with the project said.
The concept is that the rentals from the shops and other commercial units on the ground floor can be used for meeting the expenses of managing the apartment complex.
The work on the second tower of the apartment complex designed under Rajiv Awas Yojana (RAY) had been delayed for almost a decade. Originally, the project was meant to be completed by Kochi corporation using the funds from RAY scheme floated by the Union government. The central government wound up the RAY project a few years ago after the completion of its tenure. Though Kochi corporation tried to start the work later, financial hurdles stood in the way of the project.
Then, corporation authorities approached the CSML for providing financial support for implementing the project. It took several months to get technical and other clearances. Once the work on the second tower is completed, 195 families living in the slums in Fort Kochi and Mattancherry areas can be rehabilitated to the new structure.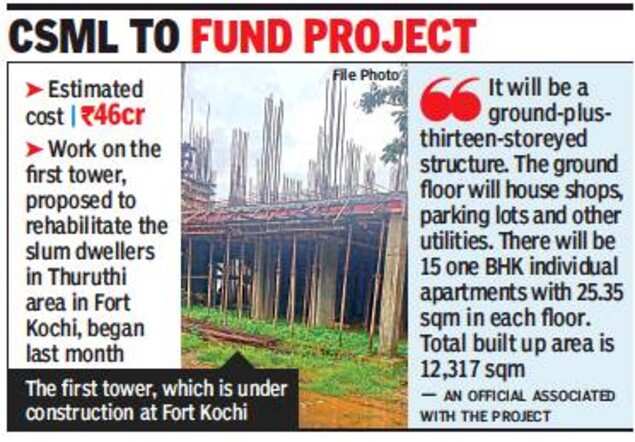 Last month, the work on the first tower of the apartment complex also had been resumed using the financial support from CSML. The first tower proposed to rehabilitate the slum dwellers in Thuruthi area in Fort Kochi had met with roadblock following fund crunch as well as controversies.
Even four years after starting the work on the first tower, only the basement and some portion of the ground floor could be completed. In August 2019, a controversy erupted over the then mayor Soumini Jain returning around Rs 92 lakh to the contractor. Jain gave anticipatory approval for returning the amount, which is the security deposit, furnished by the contractor.
This controversy further slowed down the work. Later, performance audit wing of the state government had found that the then mayor as well as top officials of the corporation had erred in returning the security deposit.