GURUGRAM: The municipal council in
Sohna
on Friday sent show-cause notices to 50 farmhouses in Raisina eco-sensitive area of Aravali.
Council officials said that they will be sending out 150 such notices before carrying out a demolition drive in the area. A drive was carried out on February 18 in which 15 structures were demolished.
As per the notice, the owners have been given seven days to respond.
The show cause notice states, "Any construction carried out in the forest area or the area otherwise covered by notification dated 07-05-1992 without permission of the competent authority (after the date of notification) has to be treated as illegal and such forest land has to be restored."
The order also mentions, "So you are intimidated that the construction raised by you on gair mumkin pahar is illegal and has to be restored…"
It added, "These construction activities are against the NGT order of 2018 in Sonya Ghosh Vs. State of Haryana case of 2013. Thus, you have been given seven days to reply before we demolish the illegal construction."
When asked, a senior official of MC Sohna said, "We will be sending out 150 notices to farmhouse owners. This will be the last and final opportunity for them to submit their reply within seven days. We will carry out a demolition drive after analysing the replies. We are also sending notices to all those who failed to reply in June last year."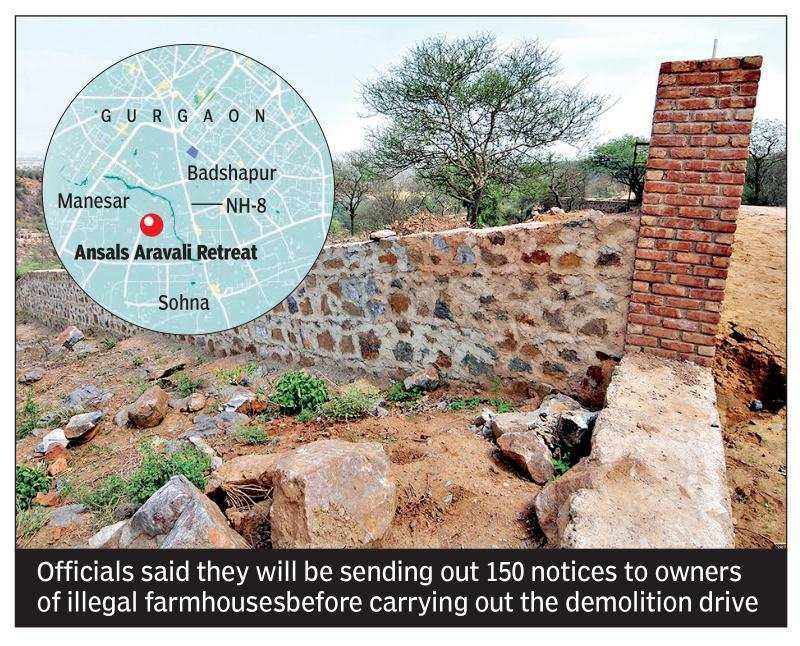 Meanwhile, the farmhouse owners of Retreat said that the matter is in court and the land is not notified under the Punjab Land Preservation Act. They added that in the year 1989-1990, 1,200 acres was purchased by Ansals (M/s Delhi Towers Pvt. Ltd.) from several private owners. At the time of purchase, the land was neither recorded as forest nor was notified as controlled area.
"Aravali Retreat project is not covered under Aravali Notification hence question of violation of the notification doesn't arise. Also the notification does not ban the construction completely but with prior sanction," said Sharad Mohan, a farmhouse owner at Ansal Retreat.